Saudi state oil company takes significant stake in Malaysia refinery
Comments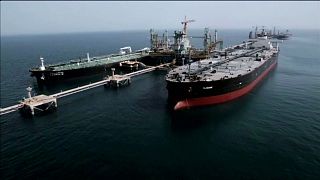 Saudi Arabia's state oil company Saudi Aramco is to invest $7 billion (6.6 billion euros) in an oil refinery and petrochemical project in southern Malaysia.
The deal was signed during a visit by King Salman Abdulaziz Al Saud.
Malaysia's Prime Minister Najib Razak said it is the single largest investment in the project which is led by the state-run oil company Petroliam Nasional Bhd, more commonly known as Petronas.
#Saudi#Aramco to invest $7 billion in Petronas</a> <a href="https://twitter.com/hashtag/oil?src=hash">#oil</a> <a href="https://twitter.com/hashtag/refinery?src=hash">#refinery</a> project, says <a href="https://twitter.com/hashtag/Malaysia?src=hash">#Malaysia</a> PM<a href="https://twitter.com/hashtag/OPEC?src=hash">#OPEC</a> <a href="https://twitter.com/hashtag/gas?src=hash">#gas</a> <a href="https://twitter.com/hashtag/LNG?src=hash">#LNG</a> <a href="https://twitter.com/hashtag/OOTT?src=hash">#OOTT</a> <a href="https://t.co/HfFkLcBupb">https://t.co/HfFkLcBupb</a> <a href="https://t.co/pmfq7qjWl5">pic.twitter.com/pmfq7qjWl5</a></p>&mdash; Christopher Johnson (chris1reuters) February 27, 2017
The Saudi king is on a tour of Asia courting investors for the upcoming sale of a 5 percent stake in Aramco next year.
The Malaysian development – with a total cost of $27 billion (25.5 billion euros) – is expected to begin operations early in 2019.
The investment is a big boost for Malaysia's economy which has been hit by weak oil prices and seems to be a major change of heart by Saudi Aramco, which in January was reportedly planning to drop out of the project.
ANALYSIS-Aramco snub puts Malaysia's Petronas in tight spot over RAPID project – Reuters UK https://t.co/JMtzXGd3cu

— Oil & Gas Malaysia (@OilGasMalaysia) February 2, 2017
The Malaysian project
Officially know as the Refinery and Petrochemical Integrated Development (RAPID) project, it will contain a 300,000-barrel-per-day oil refinery and a petrochemical complex with a production capacity of 7.7 million metric tonnes.
The complex will be alongside an existing oil storage site at Pengerang in Malaysia's southern state of Johor.
Aramco will also supply at least 50 percent of the crude that will be processed at RAPID, with an option to increase the supply, an industry source familiar with the matter told the Reuters news agency.
Petronas-Saudi Aramco expected to sign historic deal during King Salman's visit to #Malaysia. https://t.co/6tAaQlxjBe#KingSalmanAsiaTourpic.twitter.com/au04u9W4Y0

— Arab News (@Arab_News) February 26, 2017
The Aramco funding will help move RAPID to fruition and the desire of Saudi and Malaysian leaders to maintain close links between the countries likely helped cement a deal, said Subramanya Bettadapura, an oil and gas analyst with consultants Frost & Sullivan based in Kuala Lumpur.
"This investment confirmation would help bring the RAPID project to the commissioning stage," said Subramanya. "It's the goodwill of the Saudi king himself to invest and to maintain good ties with Malaysia, boost bilateral ties."
King Salman's tour
During a month long tour King Salman also plans to visit Indonesia, Brunei, Japan, China, the Maldives and Jordan "to meet with the leaders of those countries to discuss bilateral relations and regional and international issues of common concern," a royal court statement carried on Saudi Arabia's state media SPA reported.
Government sources with knowledge of the visit told Reuters that he travelled with a 600-strong delegation to Malaysia.
His entourage has completely booked out three luxury hotels in the capital Kuala Lumpur for the four-day visit.
After Malaysia, the king is expected to travel to Jakarta and Bali in Indonesia from March 1-9 with an even larger entourage of 1,500 people, followed by a trip to Japan from March 12 to 14, officials in those countries said.
Corruption scandal
Relations between Saudi Arabia and Malaysia have been in the spotlight over the last two years after Saudi Arabia was dragged into a multi-billion dollar corruption scandal at Malaysian state investment fund 1MDB, founded by Prime Minister Najib.
Najib has denied any wrongdoing in the money-laundering case which is now being investigated by several countries including the US, Switzerland and Singapore.
A Malaysian government inquiry found that nearly $700 million transferred to the prime minister's bank account in 2013 was a donation from the Saudi royal family and most of it was returned.
1MDB: The inside story of the world's biggest financial scandal | Randeep Ramesh https://t.co/xapi2BkXJq

— LeAnne Tancred (@LeAnneTancred) February 25, 2017