'Moonlight' shines after 'La La Land' mix-up
Comments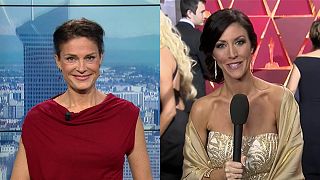 Hollywood's biggest bash of the year – the Oscars was marked by what one actress called the 'craziest Oscar moment of all time,' as 'La La Land' was mistakenly announced as Best Film.
Euronews' Lise Pedersen talked to Marci Gonzalez of ABC News who was at the ceremony.
Lise Pedersen: "Hi Marci, thank you for joining us from the Dolby Theatre in Los Angeles. So a big win for 'Moonlight' – does this edition mark the end of 'Oscars So White'?
Marci Gonzalez, ABC News: "People were saying that this seemed like the end of 'Oscars So White'. Even when the nominations came out for the Best Actor categories, for the past two years it was all white nominees, well this year seven of the actors represented racial diversity, so everyone was already saying that this year was a step in the right direction, but now with 'Moonlight' winning Best Picture, with Viola Davis winning for Best Supporting Actress and Mahershala Ali winning for Best Supporting Actor, now it is for sure that the Oscars So White hashtag and controversy has been put to rest. But the Academy is still working towards increasing its diversity, including a more racially diverse community and also more women in the Academy, so that they'll have votes so that there will be more diverse movies in the future."
Euronews: "Marci, you were there, can you please tell us about the dramatic ending to the ceremony with the announcement of Best Film. What happened there?"
MG: "Yes, a huge, huge mix-up. So there has been so much buzz about 'La La Land', they had 14 nominations this year, tied for the most Oscar nominations ever, and so they announced the winner for Best Picture as being 'La La Land', the entire 'La La Land' team went up to the stage and started the acceptance speech, and then they realised that there was a mistake. They showed the actual card that showed the winner and it said 'Moonlight', and so there was just a gasp in the audience, people just could not believe that a mix-up like this happened, so the 'La La Land' team then had to leave the stage and the 'Moonlight' team came up and they were just beside themselves, still probably at this hour trying to wrap their heads around how this could have happened."
Euronews: "A Best Director win for Damien Chazelle for 'La La Land'. So the Academy has chosen to pay homage to the film that pays homage to Hollywood?"
MG: "Oh absolutely, so it was nominated for fourteen awards and it won six of them, and it was a very big night for Damien Chazelle. He's now the youngest director to win for Best Director (NOTE: 32 years old) so a huge night for him and a huge night for 'La La Land' as expected, they just didn't take home the big award."
Euronews: "And finally, Best Foreign Language Film went to Iranian movie 'The Salesman' – whose director Asghar Farhadi boycotted the ceremony because of president Trump's so-called 'Muslim Ban'. That too was unprecedented?"
MG: "Right, and the message was read out on that film's behalf, calling out Trump's immigration policies, and so there were some moments like that where the show got political as expected, there was another comment from a presenter saying that he was against the building of any walls so again a comment about one of President Trump's policies, but other than that it really didn't turn out as political as some people expected, except from host Jimmy Kimmel, he had quite a few President Trump jokes, he even tweeted President Trump during the show."