Epidemic: US heroin deaths quadruple in five years
Comments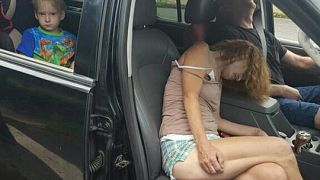 The United States is facing an opioid epidemic and fatal overdoses of heroin have more than quadrupled in a five year period ending 2015, according to a new US government report.
There were 12,989 fatal overdoses involving heroin in 2015, the new data shows, compared to 3,036 recorded five years before.
When compared to the national total of drug deaths in the United States, heroin related overdoses comprise nearly a quarter of all drug fatalities. Heroin in 2010 made up just under 8 percent.
Synthetic opioids, excluding methadone a type of heroin substitute given to addicts receiving treatment, also rose sharply from 7.8 percent of all national drug deaths in 2010, to 18.3 percent by 2015.
The new data indicates the scale of opioid use, and misuse, in the United States and highlights the difficulties facing US authorities attempting to reverse the trend.
According to the Centres for Disease Control and Prevention (CDC), a US federal agency which monitors and advises on health trends in the United States, the country's heroin addiction is linked to a long-seen and rising trend of prescription painkiller abuse.
In 2015 the CDC released a report in which it sounded the alarm on the prevalence of opioid addiction, stating overdose deaths from prescription pain medication had been steadily increasing for the past 15 years.
"Past misuse of prescription opioids is the strongest risk factor for heroin initiation and use —especially among people who became dependent upon or abused prescription opioids in the past year (2014)," the CDC's 2015 report said. "The increased availability of heroin, its relatively low price (compared to prescription opioids), and high purity appear to be major drivers of the upward trend in heroin use, overdoses, and deaths."
Rich Hamburg, the executive vice president of non-profit group Trust for America's Health, said to Reuters heroin can sometimes cost up to one tenth of that of prescription pills.
"You are 40 times more likely to use heroin if you stated with opioid painkillers," Hamburg said. "Heroin is part of America's larger drug problem."
The US Drug Enforcement Agency, tasked with monitoring and enforcing the country's federal laws on drugs, says heroin seizures increased.
gov/divisions/hq/2016/hq062716_attach.pdf by 80 percent from 2010 to 2015 fuelled in part by Mexican drug traffickers and the flow of narcotics over the porous US-Mexico border.
But it's not just heroin – data from the National Center for Health Statistics, a branch of the CDC, shows an upward trend of drug-related deaths across all ages, genders and ethnicities from 1999 to 2014.
According to the new government data, Appalachia a mountainous eastern region of the United States, including Kentucky, and the so-called Rust Belt states in the north, including Ohio and Michigan, are among the hardest hit with heroin addiction.
The states with the highest rate of drug overdose deaths in 2015 were West Virginia, New Hampshire, Kentucky and Ohio.