Ramadan Kandulu: Separate states will be better
Comments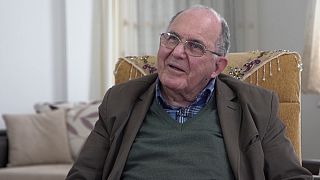 Euronews reporter Hans von der Brelie meets retired banker Ramadan Kandulu in the outskirts of Morphou/Güzelyurt, where he takes care of an orange orchard.
Ramadan Kandulu, a Turkish Cypriot, is not in favour of a future Cypriot federation, he prefers "two separate states, that will be better". His son Ali Kandulu agrees, saying that Greek and Turkish language, culture and religion are different.
The Kandulus invite us to their home, a house where Greek Cypriots lived until 1974. "This house belongs to me now", insists Ramadan Kandulu, "I am living here since 43 years".
Ramadan Kandulu has himself been displaced: after the 1974 fighting he left his village in southern Cyprus, but he has no intention to go back southwards, his former house and village were burnt.