Universal income a game changer or futile?
Comments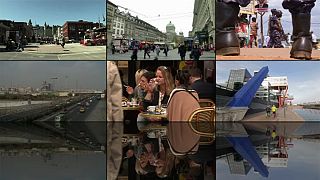 There are eight countries with something in common, each has attempted, tested or proposed the idea of universal income. The plan has been abandoned in two cities in Canada, rejected in Switzerland and is ongoing in Iran, Uganda and Finland.
#Sustainability: One charity is testing a pilot program of Universal Basic Income in a village in Ugandahttps://t.co/dbTL9yZ3aapic.twitter.com/n1QmHl3Nd4

— The Royal Vox Post (@RoyalVoxPost) November 27, 2016
Finland is the first European country to have a go. The idea is to observe what happens when individuals receive a fixed monthly sum from the state without restriction.
Does the scheme act as a disincentive for those looking for work.
A focus group of 2,000 unemployed people between 25 and 58 continue to receive state money for housing and health care. Under the plan unemployment benefits are abolished and the costs hit €20m per-year.
Sini is 34, and part of the project. Each month, irrespective of whether she works or not, she will receive the same amount of state money:"It's amazing to have the opportunity to have this kind of part time job, and also pleasing that whatever I get it increases my income rather than taking away from any benefit for example."
Something for everyone: Finland ís testing the universal basic income model. pic.twitter.com/aeoQ1IV8Cd

— DW – Business (@dw_business) February 21, 2017
If at the end of the project, Finland concludes that those unemployed continue to look for work they will adopt the plan for the whole country. The scheme will end poverty and the state will free itself from costly administrative burdens.
Johannes Kananen, is a researcher at the Universitetet i Helsingfors: "At the moment, there are more than a hundred social security arrangements, why not replace them with just one, That would be bureaucratically much simpler, and people would have the freedom to chose for themselves what they do in the society."
Is Finland's basic universal income a solution to automation, fewer jobs and lower wag… https://t.co/w2SsTW8cMMpic.twitter.com/GQde3SOggM

— Global Issues Web (@globalissuesweb) February 19, 2017
Having a choice of what to do and the role to play in society is a utopian idea and it is the flagship policy of French Socialist presidential candidate Benoit Hamon.
By 2018 in work benefits will be increased by 10 percent to to €600 and paid to all those eligible. At the same time an income of €750 will be avaliable to all young people from 18 to 25. This will then be extended to whole population at a cost of €45bn annually.
Hamon knows the numbers are big.
French Socialist Hamon Confident About Election Deal With Greens: French socialist presidential candidate Benoit Hamon said on Tuesday he… pic.twitter.com/pQRH1Ky2SV

—

VOA

Africa (@VOAAfrica) February 21, 2017
In the long term it is expected to cost €350 billion. The plan is to merge existing welfare with targeted tax revenue to finance the plan. He sees it as a long-term plan and in the long-term attitudes can change.
The Swiss rejected the idea in a referendum in 2106. Those that support the scheme say work will be carried out by robots in the near future and unemployment will explode with less money for purchasing what the robots produce.