Interns strike across major cities, asking for payment
Comments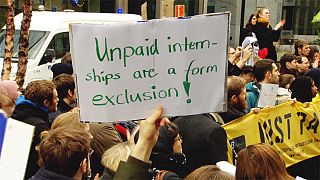 Organisations including the Global Intern Coalition led a protest in New York, Brussels and across the world, as part of their campaign to ensure interns are paid.
The "Global Intern Strike" targeted "governments, international organisations, employers and trade unions" to address "unpaid and poor quality internships".
The Global Intern Coalition say unpaid internships "deny opportunity, waste talent and distort labour markets". Bryn Watkins, of Brussels Interns NGO, says "It is illegal to offer graduates unpaid work in Belgium, but hundreds of young workers are still exploited every year".
The campaign has gained the support of some MEPs, including the Austrian Green party MEP, Ulrike Lunacek and Terry Reintke, a German MEP who also belongs to the Green coalition in Brussels.
Time to end #unpaidinternships because: also young people need to eat and pay rent! Commitment needs to be rewarded! #GlobalInternStrike /HG pic.twitter.com/KUj6xclJ5a

— Ulrike Lunacek (@UlrikeLunacek) February 20, 2017
Stop unpaid internships! Great gathering for #GlobalInternStrike in #Brussels today. pic.twitter.com/BqE4Ppv7oy

— Terry Reintke (@TerryReintke) February 20, 2017
"It's not for us. It's for those who couldn't afford it." #GlobalInternStrike#SustainableAndInclusivepic.twitter.com/7LOHXBcfuB

— Like the Gem (@urdoingreat) February 20, 2017
Most support came from two main protests, outside European Union buildings and the UN in New York. But there were smaller protests around the world, with some posting their opposition to unpaid work placements in Chile.
Unpaid internships are unfair even at the end of the Earth, in Chile #GlobalInternStrikepic.twitter.com/A17LMwxfQY

— Alessandro Greppi (@NibaldoGreppi) February 20, 2017