Infantino in South Africa to discuss World Cup expansion
Comments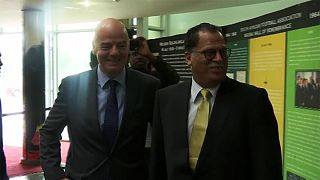 Gianni Infantino, President of football's world governing body, arrived in Johannesburg on Tuesday to attend a two-day FIFA summit.
Top on the 46-year-old Swiss-Italian's agenda is to explain changes to the global game in particular the expansion of the World Cup from 32 to 48 teams.
In an unprecedented move, all 54 African national football association presidents have been invited to the summit meeting which started later on Tuesday and will take place behind closed doors.
There has been speculation that under the 48-team World Cup format that FIFA wants to introduce, Africa's five slots will increase to nine.