From Romania to France, protests against "corrupt politicians"
Comments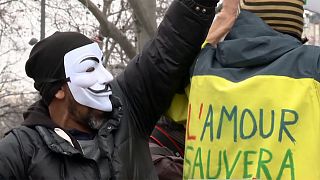 Hundreds rallied in Paris on Sunday to protest against corruption and a presidential campaign marred by legal scandals.
Placards called for an end to the privileges of the ruling class , echoing claims of the French Revolution.
Marre des "privilèges": manifestation à Paris contre la corruption des élus politiques #AFPpic.twitter.com/Nxg5TinVrO

— Agence France-Presse (@afpfr) February 19, 2017
#France#Latest 1000's protest against political corruption at #Paris+other cities.Via JBSemerdjian</a> <a href="https://twitter.com/hashtag/StopCorruption?src=hash">#StopCorruption</a> <a href="https://t.co/spbz4dEbkk">pic.twitter.com/spbz4dEbkk</a></p>&mdash; José Miguel Sardo (jmsardo) February 19, 2017
Many of the slogans specifically targeted center-right candidate Francois Fillon, who faces a probe into claims his wife was paid for fake jobs.
"We see all those politicians earning millions and we're struggling everyday to earn peanuts," said Francoise, who lives in Paris and took part in the rally. "People need to wake up, we should do what they did in Romania."
Fillon en prison, la corruption est un poison! Pour un potentiel président, que la rue envoie déjà en prison, on a honte pour lui. #Fillonpic.twitter.com/RnYe6ZffMs

— Фilip (@Filip75012) February 19, 2017
The rallies in Paris and other big French cities were in part inspired by the mass anti-corruption protests sweeping through Romania. Organizers say both nations are fed up with their politicians.
In Romania, plans to decriminalise a number of graft offences late January sparked the biggest protests since the fall of Communism and forced the ruling Social Democrats to change tack. Thousands more took to the streets this Sunday, calling for the government to resign.