Ceuta under siege: more migrants storm the fence
Comments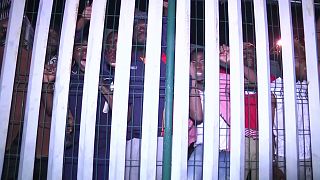 More than 300 migrants storm Ceuta fence
Three seriously injured
600 stormed the fence on Friday
More than 300 migrants have broken through the border fence between Morocco and the Spanish enclave of Ceuta – Europe's only land border with Africa.
OffIcials say around 600 people used wire cutters and blunt weapons to try and break into the enclave.
Some tried to scale the six-metre, barbed-wire fence.
Over 350 migrants stormed the border at Spain's Ceuta, one of two EU locations to share a land border with Africa https://t.co/l9idvhjelxpic.twitter.com/jskhexHf8K

—

AFP

news agency (@AFP) February 20, 2017
Was anyone hurt?
Yes.
Three people have been taken to hospital with serious injuries.
Two of them are police officers.
Is this the first time this has happened?
No.
An estimated 500 breached the fence on Friday.
Monday's attempt happened at the same place.
The authorities in Ceuta say more than 1,400 are now waiting in the North African enclave to be processed.
Tents have been requested to house the latest arrivals.
Hundreds of migrants rushed the border at Ceuta, the EU's only land border with Africa https://t.co/OJEt2Q4aSVpic.twitter.com/yZv83QxpyD

— Business Insider (@businessinsider) February 20, 2017
What will happen to them now?
They will have to wait to be transferred to the mainland to have their papers processed.
Most are likely to be returned to Morocco or their country of origin.
Ceuta and Melilla – what you need to know
Spain's two North African enclaves are often the focus of attempted illegal border crossings.
Ceuta is on Morocco's northern point off the Strait of Gibraltar.
Melilla lies further to the east and closer to the Algerian border.
Many attempt to climb fences surrounding the territories or swim around the border and along the coast as they seek an entry point into Europe.
More than 1,100 tried to cross into Ceuta in January. However, most were turned back.