Syria conflict: fierce fighting in southern city of Daraa
Comments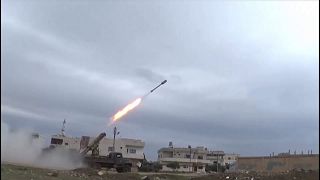 In Syria, heavy clashes have continued between government and opposition forces in Daraa.
Footage uploaded online showed shelling and airstrikes in the southern city.
Rebel guns have largely been silent in southern Syria for more than a year, but fierce fighting reportedly began on Sunday. The opposition is believed to have launched the offensive in a bid to obstruct an attempt by the Syrian army to seize a strategic border crossing with Jordan and territory which would split the city.
Meanwhile, Russia's Sergei Lavrov and the UN's Special Envoy for Syria, Staffan de Misturu met in Moscow on Thursday.
The meeting came as representatives from Syria, Turkey, Iran, Russia and the United Nations gathered in the Kazakh capital Astana for a fresh round of talks on the Syrian peace process.
Lavrov is due in Bonn later for a G20 meeting, where he is set to meet new US Secretary of State Rex Tillerson.