North Korea celebrates the anniversary of the late leader's birth with sports events
Comments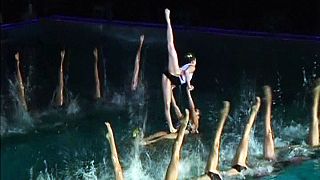 Sporting events have been held in Pyongyang to celebrate the 75th anniversary of the birth of the late leader, Kim John Il.
Unverified video is said to show performances by synchronised swimmers at Changgwang Health Complex.
Kim Jong Il died on December 17, 2011.
His birthday, February 16, has been designated as the "Day of the Shining Star".
Footage was also shown of an international figure-skating festival.
Competitors from Russia, Belarus, Canada, France and Italy reportedly took part in the performances.