German Chancellor Merkel testifies on NSA spy scandal
Comments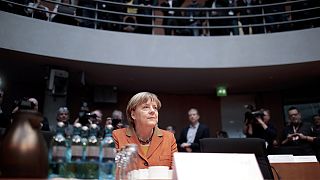 German Chancellor Angela Merkel has admitted to technical and organisational errors pertaining to the 2013 NSA spying scandal, but denies knowing the extent of US-German cooperation in the affair until two years later.
Merkel gave a 25-minute statement to a parliamentary committee in which she attempted to prove she had routinely come out against intelligence surveillance of allies in the wake of the 2013 Snowden intelligence leaks.
The commission on espionage was created amid suspicions the chancellor's own mobile phone was tapped by the NSA.
Edward Snowden, a former NSA agent, reported in 2015 that Germany's BND foreign intelligence body had been helping the US to spy on Europeans for years.
Merkel claimed she only gradually discovered how widespread the US agency's spying on Germans was and said she assumed the BND would not help the NSA to spy on European politicians and companies.
In 2013, the chancellor complained to the-then US President Barack Obama about the espionage and demanded that foreign operatives follow German law when in the country.
"Spying among friends," she famously stated, "that simply isn't done."