The demonstrators taking to the streets to proclaim their European identity
Comments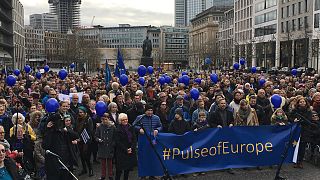 "Europe must regain its fun." This is Stephanie Hartung's vision for combatting Eurosceptics and protecting the future of the diverse but united European Union she loves.
Hartung is one of the co-founders of the #PulseofEurope movement, who has been demonstrating in support of the European Union in German cities at 2pm every Sunday.
Pulse of Europe is the brainchild of lawyer Daniel Röder (44) triggered by the election of Donald Trump as US president.
Rather than rail against populists on the internet, Röder decided to send his message in a positive fashion. The philosophy behind "Pulse of Europe" is expressed thus: "Convinced Europeans and Democrats must now send out positive energy that counteracts the current tendencies. The European pulse. "
From their beginnings in Frankfurt, more and more people are taking part in these demonstrations – there are groups in Karlsruhe, Freiburg and Cologne, but also planned demonstrations in Amsterdam, Paris and Rome. In the Netherlands, where general elections take place mid-March, the right- wing extremist Geert Wilders is leading. In France, Marine Le Pen could move into the second round of presidential elections.
Euronews has spoken with Stephanie Hartung of "Pulse of Europe" to find out more about the people in Germany who are in the streets in favour of Europe.
Euronews : Why are you committed to more Europe?
Pulse of Europe : Out of gratitude for its achievements and to give hope for the future for our children. Only a united Europe ensures lasting peace.
Euronews : What should EU politicians do differently?
Pulse of Europe : They are avoiding the subject, instead of putting Europe right on the top of the topic list. Time is running out.
Euronews : What are the biggest mistakes in the EU?
Pulse of Europe : The really big issues are not being tackled by Europe; Instead, bureaucratic regulations are at the forefront.
Euronews : How would you describe the current political mood in Germany?
Pulse of Europe : Skeptical and waiting. Europe must regain its fun, provide a perspective that inspires people.
Euronews : What do you think is the biggest problem at the moment?
Pulse of Europe : The fact that global issues are not approached together, but that national issues are always at the forefront.
Euronews : Who is part of the movement?
Pulse of Europe : Citizens of all ages, no matter of their denomination and their political orientation, stand side by side at our events.
Euronews : Do you have a members?
Pulse of Europe : Everyone who is committed to his potential is part of Pulse of Europe.
Euronews : How many people are involved?
Pulse of Europe : Thousands are currently visible on the streets of Frankfurt am Main (as the origin of the movement and seat of the association) as well as in Freiburg, Karlsruhe, Cologne and Amsterdam. It will soon be Paris!
A lot more people follow our activities in the social media ( Facebook , Twitter ).