US travel ban: Washington State Attorney warns Trump
Comments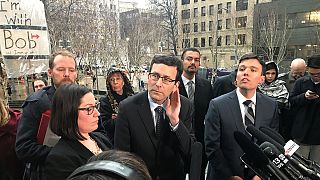 It infuriated many. US courts put it on hold.
Now President Donald Trump's controversial travel ban could come under further scrutiny.
Washington State Attorney General Bob Ferguson, who has led the legal fight against the ban on citizens of seven Muslim-majority countries, believes documents and emails by administration officials may contain evidence that Trump's executive order was an unconstitutional attempt to stop Muslims from entering the US.
And in looking for what he called an "improper motive," Ferguson told ABC's "This Week" programme on Sunday that he will use "every tool" at his disposal.
Thus, if the Seattle lawsuit goes to trial, Ferguson said he will depose Trump administration officials to uncover "what truly motivated" the president's executive order.
WA Attorney General to @GStephanopoulos on whether he will depose Pres. Trump in legal challenge to travel ban: "I'll use every tool I have" pic.twitter.com/CISRDmpYy7

— This Week (@ThisWeekABC) 12 février 2017
Trump is also examining the tools he has available and has said he may issue a new order rather than pursue lengthy court challenges.
But Ferguson has warned that any new order will be challenged, if it is not 'within law'.
Ferguson: If Trump signs new immigration order, it better be within law or it will be challenged https://t.co/IWaUFTSwa5 via @Q13FOX

— WA Attorney General (@AGOWA) 11 février 2017
Separately, on US television on Sunday, White House adviser Stephen Miller slammed the federal appeals court that blocked Trump's executive order on immigration, calling its ruling a "judicial usurpation of power".
"The president's powers here are beyond question," Miller said on the "Fox News Sunday" programme.
"The 9th Circuit has a long history of being overturned and the 9th Circuit has a long history of overreaching," he said.
"This is a judicial usurpation of power."
Miller, who appeared on several television news shows to criticise the court and its ruling, earned praise from Trump on Twitter.
Trump advisor Stephen Miller on immigration order: "We have equal branches of government in this country. The judiciary is not supreme." pic.twitter.com/LTiLdCyEaM

— This Week (@ThisWeekABC) 12 février 2017
Congratulations Stephen Miller- on representing me this morning on the various Sunday morning shows. Great job!

— Donald J. Trump (@realDonaldTrump) 12 février 2017
with Reuters