Syrian rebels say close to taking strategic ISIL stronghold of al-Bab
Comments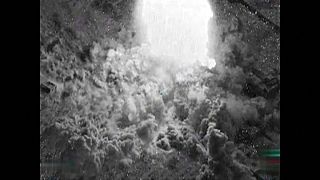 As Turkish warplanes continued to bombard the ISIL held city of al-Bab, in northern Syria, Turkey's President Recep Tayyip Erdogan said his country's long-term aim is to clear a 5,000 square kilometre 'safe zone'.
After nearly two months Turkish backed rebels said they were close to capturing al-Bab.
Erdogan say the point of its military incursion into Syria is to clear the jihadists out of that border region.
42 #Daesh terrorists 'neutralized' in northern #Syriahttps://t.co/vtfXRHN9tspic.twitter.com/DKi8jFcGTT

—

ANADOLU

AGENCY

(

ENG

) (@anadoluagency) February 12, 2017
Al-Bab – just 30 kilometres from the Turkish border – is so-called Islamic State's last stronghold in northern Syria. With 100,000 inhabitants it was seized in 2104.
It has been the focus of fighters from various rebel groups as well as Syrian government forces.
On Sunday, the Turkish government and rebel sources said their fighters have reached the centre of the city, implying they have won the race for control against the Syrian government forces who were attacking from the south.
Syrian Soldiers Deploy 1.5km from #ISIL -Held Town of Al-Babhttps://t.co/FdAYUJeXDcpic.twitter.com/jeXqCHjuL4

— Fars News Agency (@EnglishFars) February 12, 2017
The fighting has taken a heavy toll on Turkish forces. The Dogan news agency reported one soldier was killed in clashes with the jihadists on Sunday, bringing to 67 the total of Turkish losses.
Al-Bab is key to Erdogan's 'safe zone' plan which he says would help prevent people fleeing from Syria and allow those who had crossed the border into Turkey to go home. It would also deepen Turkish influence in the area.
He said Turkish forces had no intention of staying in Syria once the area had been cleared of both Islamic State and Kurdish YPG militia fighters, whom Turkey sees as a hostile force.