UK economy resilient at end of 2016, manufacturing jumps
Comments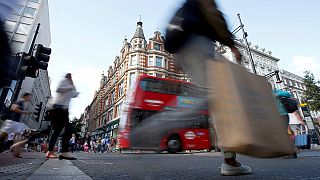 Britain's economy remained resilient at the end of last year according to the latest official figures despite the surprise vote in June to leave the European Union.
However 2017 looks likely to be more difficult.
According to the Office for National Statistics (ONS), UK industrial output rose 1.1 percent (4.3 percent year-on-year) in December.
Manufacturing output jumped by 2.1 percent (4.0 percent year-on-year), though that was mostly due to the often volatile pharmaceuticals sector. Construction enjoyed a better than expected 1.8 percent improvement.
Manufacturing, construction and goods exports all ended 2016 strongly. Read our full summary https://t.co/PKKXSoI28d

—

ONS

(@ONS) February 10, 2017
But analysts said economic growth is expected to slow this year as rising inflation hits consumer's spending power.
In addition the prospect of difficult Brexit negotiations with the EU will deter companies from making long-term investments.
Trade deficit
Separate figures from the ONS showed Britain's trade deficit fell in December.
The ONS said the improvement was largely to due to exports of erratic items such as gold and aircraft parts and there was little evidence that the fall in the value of the pound since the Brexit vote was helping bring down the trade gap.
Excluding the volatile erratic items, Britain's goods-trade deficit widened in December.
Commenting on today's short term indicator data, senior statistician StatsKate</a> said: <a href="https://t.co/rVpfAmilUQ">https://t.co/rVpfAmilUQ</a> <a href="https://t.co/P138aN57sX">pic.twitter.com/P138aN57sX</a></p>— ONS (ONS) February 10, 2017
The ONS said it was not revising its preliminary estimate that Britain's economy grew by 0.6 percent in the fourth quarter of 2016.