Sessions made US Attorney General
Comments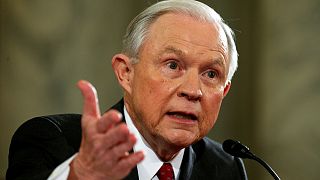 The US Senate has voted 52 to 47 in favour of allowing Jeff Sessions to become the next US attorney general.
The Alabama Senator was one of Trump's most bitterly opposed nominations.
Sessions' nomination for federal judge by the Reagan administration was overturned by the senate in 1986 over accusations of racism.
Jeff Sessions was too racist to be a judge under Reagan in the 1980s.

No wonder he's perfect to be Attorney General under Trump today.

— Eric Wolfson (@EricWolfson) February 9, 2017
Some, like Senate majority leader Mitch McConnell, welcomed his appointment. McConnell announced: "He's got a big job ahead of him. I think he is up to the task. He's tough, but he is fair. He's persistent, but respectful. He's a likable guy, a principled colleague, an honest partner".
Others were less keen."Any Attorney General must stand firm for the rule of law, even against the powerful executive that nominated him or her." Virginia democrat, Tim Kaine told his colleagues."I oppose Senator Sessions, who is a friend, who is someone I respect, for this position because I believe his record raises doubts about whether he can be a champion for those who need this office most, and it also raises doubts about whether he can curb unlawful overreach by this executive".
Sessions has always vehemently denied the accusations of racism that have dogged him throughout much of his career.
He said that they were 'painful' stereotypes of a southern conservative and testified "I am not the Jeff Sessions my detractors have tried to create. I am not a racist. I am not insensitive to blacks."
Senator Elizabeth Warren was silenced earlier this week when she tried to raise some of these historic allegations of racism against Mr Sessions.
Thank you SenSanders</a> for reading Coretta Scott King&#39;s letter on the Senate floor. It is powerfully important. <a href="https://t.co/3VMZuE8tdp">https://t.co/3VMZuE8tdp</a></p>&mdash; Elizabeth Warren (SenWarren) February 8, 2017
Warren instead took to facebook where she read a letter from Martin Luther King Junior's widow, Coretta Scott King, in which she opposed Session's nomination for federal judge citing intimidation of black voters.
A lot of folks sharing cover sheet of Coretta Scott King letter opposing Sessions. Full thing 10 pages. All are here https://t.co/U3Gbc7eDIq

— Wesley Lowery (@WesleyLowery) February 8, 2017