Vatican invites China to organ trafficking summit
Comments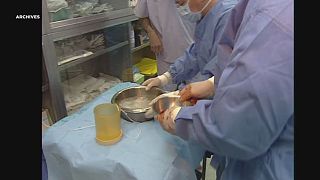 The Vatican has come under fire from Human Rights groups for inviting Chinese representatives to a conference on human organ trafficking organised at the pope's request.
Human rights advocates outraged after Vatican invites China to organ trafficking summit https://t.co/7M7kL4cmso

— Cathola (@CatholaFeed) February 8, 2017
China has a large black-market for the sale of human organs but Beijing claims the practice of harvesting executed or detained prisoners' organs ended in 2015. Some Human Rights groups are sceptical and are demanding independent inspections.
Monsignor Marcelo Sanchez Sorondo, Chancellor of the Pontifical Academy of Sciences told reporters: "The positive effect could be the strengthening of the current Chinese government, president and ministers' position and those who came here, who really want to change and want to respect human dignity in this field, which means not selling and not taking organs from inmates which has occurred in the past."
China's National Organ Donation and Transplantation Committee Chairman, Jiefu Huang, made assurances that the country is 'mending its ways' saying: "There is zero tolerance. However, China is a big country with a 1.3 billion population so I am sure, definitely, there is some violation of the law"
The advocacy group Doctors Against Forced Organ Harvesting (DAFOH) said in a statement on Tuesday there was "no evidence that past practices of forced organ harvesting have ended" in China.
The summit is focusing on the exploitation of migrants by people smugglers in North Africa where many are being forced to have their organs extracted as payment in order to continue their journey to Europe.
#MSU prof to present research at Vatican. Great interview on human organ trafficking by LSJBethLeBlanc</a> <a href="https://t.co/bv2yS3FLt5">https://t.co/bv2yS3FLt5</a> <a href="https://t.co/gfN1k6HRjL">pic.twitter.com/gfN1k6HRjL</a></p>&mdash; Andy Henion (andyhenion) February 6, 2017