IMF's Lagarde: More economic transparency means more prosperity
Comments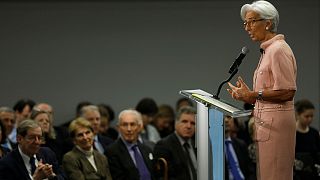 Economic transparency can make countries more financially stable and prosperous, IMF Managing Director Christine Lagarde said.
New International Monetary Fund data show that countries that improve the transparency of their economic and fiscal data are rewarded with significantly lower borrowing costs, Lagarde said on Wednesday.
Speaking to the Atlantic Council, a Washington-based think tank, Lagarde said that according to a yet-to-be published IMF staff research paper adherence by countries to the IMF's data transparency initiatives leads to a 15 percent reduction in the spreads on emerging market sovereign bonds – just three months after the improvements are made.
"IMF staff research also shows that, during crises, capital flight is greater in the least transparent countries, which underlines the benefits for financial stability that transparency can bring," Lagarde said.
The IMF said that the paper, titled, "The Effects of Data Transparency Policy Reforms on Emerging Market Sovereign Bond Spreads," will be published later this year.
"Of course, what is good for our 189 member countries is good for the IMF itself. Transparency allows us to contribute to the public debate; it allows the public to scrutinize our work; and it increases our accountability", Lagarde said.
Pursuing transparency also means engaging with the broadest possible audience which includes parliamentarians, labor unions, business owners, students, policy experts, and "non-experts", Lagarde said.
Without the power of transparency, the IMF would not be able to play its roles properly, she added. That includes being a trusted advisor to governments that share sensitive information with the Fund, being a global watchdog that raises red flags and encourages collaboration, and being a "fitness coach" to some countries by providing hands-on technical assistance and training.
Lagarde also justified the IMF's activity on social media like Facebook and Twitter in the name of transparency. "Publishing is important", she said. "It is necessary that we communicate on social media", because the scope, volume and depth of economic and financial information has increased enormously over the past decade.