IMF-EU stalemate over Greek debt
Comments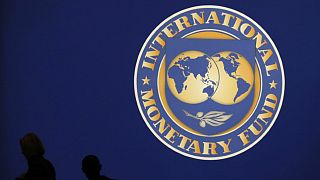 Greece is getting impatient at the stand-off between the International Monetary Fund and the European Union over Athens' latest financial aid programme.
Our aim is to not yield to illogical demands by the International Monetary Fund

Greek government spokesman
The IMF wants Brussels to restructure or forgive Greece some of its debt and so far is refusing to contribute to further loans.
The Europeans – particularly Germany – are strongly opposed to any talk of debt relief at this stage.
In Athens, government spokesman Dimitris Tzanakopoulos insisted the country was meeting its commitments and rejected any further austerity.
He told reporters: "Our aim is to not yield to illogical demands by the International Monetary Fund, which insists on making a central issue the legislating of precautionary [austerity] measures to the sum of 4.5 billion after the programme ends."
He added that Athens had "every reason to believe" the negotiations would be wrapped up soon.
Unsustainable
The IMF believes Greece's debt load is unsustainable and it cannot meet its targets for growth and repayment which is why there should be precautionary measures – including labour and pension reforms – in place.
IMF says Greece should meet lower fiscal surplus target https://t.co/K4AUVKdndcpic.twitter.com/5UIyuntCny

— Reuters Top News (@Reuters) February 7, 2017
But eurozone finance ministers think the IMF's view is overly pessimistic. They are also worried that if they wrote off some of Greece's debt it would send the wrong message to the region's taxpayers whose money has been used for previous bailouts.
Surprising
Eurogroup President Jeroen Dijsselbloem said: "It's surprising because Greece is already doing better than that report describes."
He said Greece's creditors, which include both the IMF and eurozone states, would be prepared to ease the terms of debt repayments further if it continued to cooperate on reforms.
"At the end of the current (bailout) programme in mid-2018 we'll look again to see what's possible and what's necessary. But not earlier."
But he ruled out any relief on principal debt.
Downplaying divisions between the eurozone and IMF over the programme, Disselbloem said both agreed further pension and tax reforms were needed.
"So it's not like the IMF is saying 'leave the Greeks alone now and give them debt relief'," he said.
#Greece News: Dijsselbloem: IMF Report on Greece 'Unnecessarily Pessimistic' https://t.co/aSLkjYMWZYpic.twitter.com/SYwffgbv7S

— Corfu Κέρκυρα (@_Corfu) February 7, 2017
Hard-hitting piece by former IMF official AshokaMody</a> on why the Fund should get out of <a href="https://twitter.com/hashtag/Greece?src=hash">#Greece</a>. <a href="https://t.co/wT55EzB9WA">https://t.co/wT55EzB9WA</a></p>— The Greek Analyst (GreekAnalyst) February 3, 2017
Greek debt crisis: an existentialist drama with no good end in sighthttps://t.co/twym9OeL4n#Germany#Greece#eurocrisis#MMM

— Paul Bishop (@paulbishop4U) February 6, 2017