Chelsea crush Arsenal to kill off Gunners' title hopes
Comments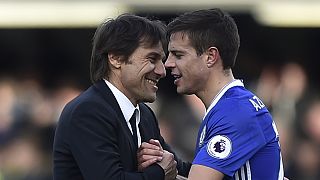 The Corner this week looks at a clash that may have decided the Premier League. There are several London derbies but arguably the most intense is the match between Chelsea and Arsenal. This fixture had added spice as Arsenal delivered a footballing lesson when Chelsea visited the Emirates in September, but since then Chelsea have surged. On Saturday, Antonio Conte's Blues won the rematch.
Hazard a guess who's London's best side? *
As much as Chelsea stirred with bright football to seal this thrilling win, Arsenal stumbled and looked nothing like a side capable of maintaining a title challenge. The midfield was swamped and the manner of Arsenal's eclipsing was more of a team facing inevitable relegation than sitting in a champions' league place. Chelsea look irresistible on this form and easily the best side in England; Arsenal look bereft of ideas and fight, and increasingly in need of a change of direction.
The two managers' reactions were very different after the 3-1 scoreline. Antonio Conte was especially happy with his players:
"We worked very well. I'm pleased for my players because they showed me great commitment. The will to fight to try to win this game because the game was very important. It was very important in one week, in four days to face two tough games against Liverpool and against Arsenal. Now, it's important to celebrate this win but then from tomorrow it's important to think about the next game."
His opposite number was full of compliments:
"They look at the moment in full confidence, powerful, strong and they don't concede goals. The title is theirs to lose. They are in the best position, they don't play in Europe. They can wait every week for the next game, they can prepare properly and they are in a very, very strong position," said a despondent Arsene Wenger.
Up & Down
The Premier League last weekend supplied us with a lot of stories, not only in the London derby. Here you have the men who marked match day 24, in our section ''Up & Down''.
UP
Gabriel Jesus is a 19-year-old Brazilian who scored the goals in Man City's 2-1 win over Swansea. Bought on the 19th of January 2017, he made his first PL appearance on the 21st and on February 1 he scored his first goal for the club. Make that 3 goals in 5 days. Only the 5th player to score on his first two PL starts for Man City, after Geovanni, Robinho, Adebayor, and De Bruyne.
UP
Romelu Lukaku scored 4 goals in Everton's 6-3 whopping of Bournemouth. At 23 years old and 267 days, he is the 5th youngest player to score 4 goals in the PL, after Michael Owen, Robbie Fowler, Yakubu Aiyegbeni and Andy Cole. He's the second Everton player in history to score 4 goals in the PL, after Louis Saha in 2011, and it's the 300th hat-trick in PL history.
DOWN
Liverpool went down embarrassingly 0-2 to Hull City who sat in the 18th position in the PL. Liverpool have now won only one match in the first 10 played this year, against 4th division Plymouth in the FA Cup on January 18.
We might be Wrong
We're not the best with the predictions, but at least we do not give up and we keep on trying. Have a go and send us your predictions for next weekend's matches. You know the hashtag: #TheCornerScores.
Liverpool 2-0 Tottenham
Burnley 0-3 Chelsea
Lazio 1-1 Milan
Conte Pianoforte
Antonio Conte began as an enigma to Londoners as Chelsea failed to take off. But now the sky's the limit for the Blues, top of the Premier League. Now the Italian manager is a real idol, for his qualities, but also for the show he puts on. It's a style that a spawned a thousand internet memes, of course.
The Corner is back as usual next Monday, don't miss it!
Spurs may legitimately dispute this claim, and do, loudly