Babies are among the victims of female genital mutilation (FGM), campaigners claim, reflecting a growing trend of younger girls being targeted.
Babies are among the victims of female genital mutilation (FGM), campaigners claim, reflecting a growing trend of younger girls being targeted.
Girls were traditionally cut when they were around 10 years old, to 'prepare them for marriage', but are now being disfigured earlier so offenders can escape justice, say the Africa-based Network Against Female Genital Mutilation (NAFGEM).
One baby, born on Christmas Day in a remote Manyara region of northern Tanzania, was cut by her great grandmother at just five days old, according to NAFGEM activists.
Complications followed and she died a few days after arriving at hospital. Her mother and great grandmother have been arrested by police.
The World Health Organisation defines FGM as 'altering or causing injury to the female genital organs for non medical reasons'.
It can include removal of the clitoris or labia; the narrowing of the vaginal opening; or piercing, scraping and burning of the genital area.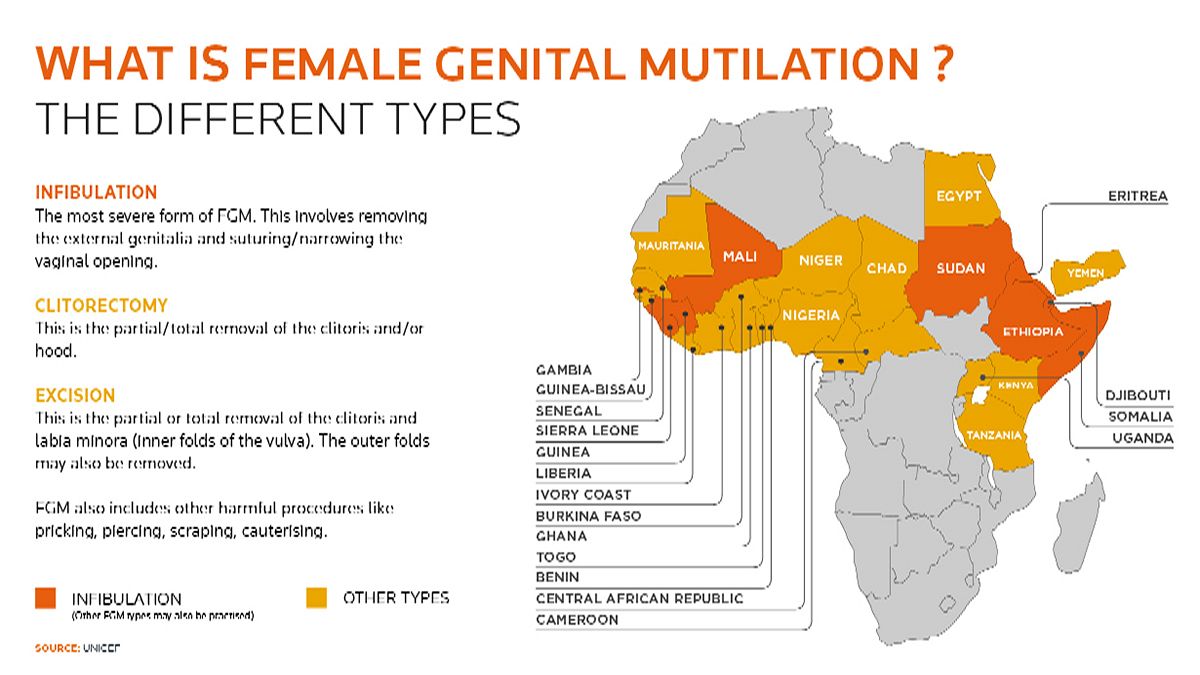 Francis Selasini, executive co-ordinator of NAFGEM, speaking ahead of a global FGM awareness day on Monday, February 6, told Euronews: "Girls used to be mutilated around the age of 10 years old and it was a traditional practise to prepare them for marriage.
"But thanks to changes in the law and awareness raising about the dangers of FGM, the incidents are decreasing.
"However some see FGM as a tradition that must be kept and to avoid problems with the law they are now frequently cutting girls at a much younger age, with even babies being mutilated.
"The biggest challenge to eradicating FGM in this region is that it is linked to traditional religion. The elder women are the ones who oversee the ritual and it gives them social status.
"If a girl has not been cut she cannot participate, and so the women want girls to undergo FGM to they can take part."
FGM is very entrenched where the baby was born in Tanzania's Manyara region but progress has been made in tackling the problem, according to Equality Now, an NGO that fights for the human rights of women and girls.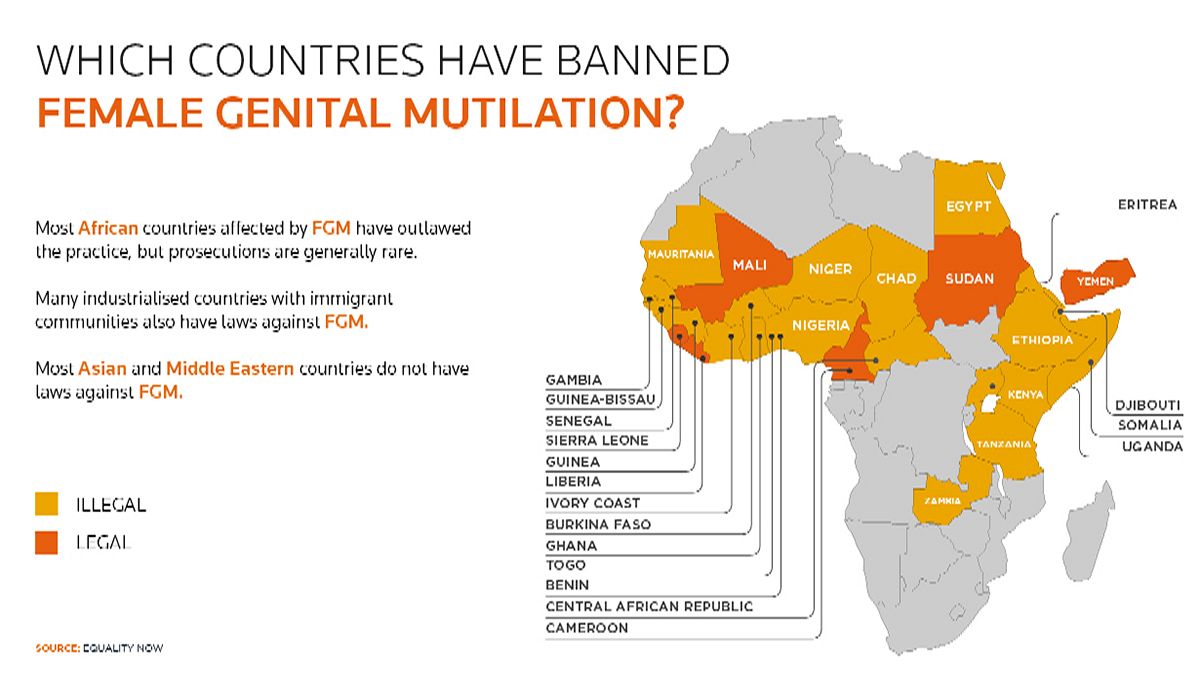 In 2010, 70.8 percent of women and girls had undergone the practice, but that figure has since dropped to around 58 percent.
Grace Uwizeye, a project worker at Equality Now, which works alongside NAFGEM, said: "Now the challenge that campaigners face is that children are being mutilated at younger and younger ages.
"It is because awareness raising has been so successfully in schools that cutters are now taking advantage of younger children who are unable to resist, and are even targeting babies.
"It is important to have laws against FGM because it sends a strong message from the government that practitioners and families members who arrange the procedure will be prosecuted.
"But change doesn't happen overnight and campaigners must work hard to shift deep-rooted traditional beliefs."
NAFGEM, together with other campaigners fighting FGM, such as Forward UK, are also calling on men to take a more active role .
The network told Euronews: "Men also have an important role to play in bringing an end to FGM. Some say that it is traditional practice carried out by women and that men shouldn't interfere. They may also be pressurized into only marrying girls who have been mutilated. However there are others who are ready to transform, and NAFGEM does a lot of awareness raising with different groups, including schools, community and religious leaders."
In Europe there is estimated to be around 500,000 women and girls with FGM, including 137,000 in the UK, 29,000 in the Netherlands and 13,000 in Belgium.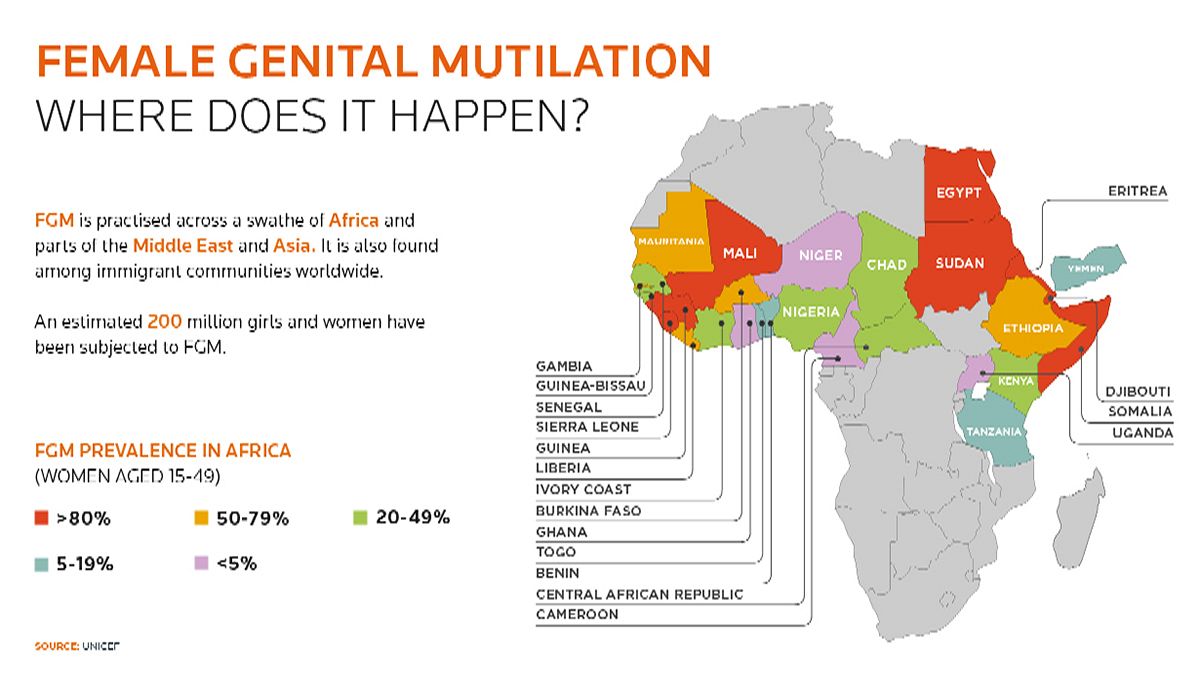 Your view Have you been affected by FGM or got a story to tell on the topic? Email chris.harris@euronews.com