Le Pen gets tough on Europe in French presidential campaign launch
Comments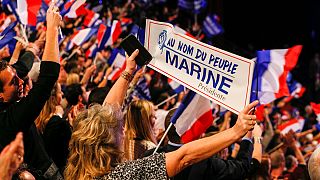 Taking the top spot in her list of 144 election pledges is 'the return of France's sovereignty'. If she comes to power, National Front leader Marine Le Pen has promised to go directly to Brussels. What will she say to European leaders?
Her right-hand man, Florian Philippot, gave euronews the response.
"She'll say 'the people have given me a mandate. I want to recover the great French sovereignties that you have stolen from us. Monetary, budgetary, territorial – both our actual and legislative borders, so that French laws take precedence over European ones.'
"And either Brussels will say yes, we'll change Europe completely. And after the resulting referendum, we'll say that France can stay because this is no longer the European Union that we know, it's a Europe of free and sovereign nations. Or, Europe says no and in that case we'll say after a referendum 'we're leaving the EU'."
'The EU is a failure', Marine Le Pen has claimed. Spending power, a migrant crisis, a series of terror attacks… And now the UK is serving as an example.
"France needs to leave the EU, exactly as England has done. Already, in terms of the euro, we've lost. It's been a catastrophe, compared to the franc. And the Schengen agreement has also been a catastrophe," said one National Front supporter.
Another added:
"England should have sunk, yet it's still there. Apparently things are better economically. Apparently, it's not yet ruined. The English get it!"
Euronews reporter Anne Devineaux gave her analysis of the Lyon rally.
"After Brexit, Marine Le Pen's followers believe more strongly than ever in the possibility of 'Frexit.' Because, they've never believed more fervently in their victory. Europe can do nothing but wait restlessly for the as-yet-uncertain outcome of this French presidential election."