Rohingya island plan could trigger a human rights catastrophe - activists
Comments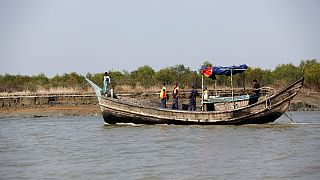 Rights campaigners are warning that the Bangladeshi government's revived plan to relocate thousands of Rohingya refugees to a remote, low-lying island could trigger a humanitarian catastrophe.
The plan, which was initially suggested in 2015, was brought up again earlier in the week.
Thengar Char has been identified as a short-term solution to the humanitarian crisis unfolding on the Bangladeshi border with Myanmar.
An estimated 70,000 Rohingya Muslims have fled across the border.
They are escaping an army crackdown on insurgents that began last October.
They have joined more than 200,000 Rohingya already living in official and makeshift camps.
#UNHCR & donors must tell #Bangladesh that moving #Rohingya to Thengar Char island is "absolutely unacceptable" hrw</a> <a href="https://t.co/2t8P2VkYIS">https://t.co/2t8P2VkYIS</a> <a href="https://t.co/FQElDM72DU">pic.twitter.com/FQElDM72DU</a></p>— Phil Robertson (Reaproy) February 2, 2017
Bangladesh gov't issues order to transfer #Rohingya refugees to Thengar Char, a largely uninhabitable island. https://t.co/1Hx6xz40wT

— joanne mariner (@jgmariner) February 1, 2017
What Bangladesh is suggesting
Some in Bangladesh say the refugees bring crime and the risk of disease.
The influx has prompted Dhaka to revive a plan, first proposed in 2015, to move thousands of people to the uninhabited island around 250 kilometres northwest of their camps.
A Bangladeshi minister has reportedly told the Reuters news agency this week that the country is determined to push ahead.
Shelter, facilities and livestock will be provided, he said.
Island life – the lowdown
Thengar Char lies in the waters of the Bay of Bengal.
Created 11 years ago by sediment from Meghna River
The island is two hours by boat from the nearest settlement.
There are no buildings, mobile phone reception or people.
It often floods during the monsoon and the surrounding waters are dogged by pirates.
What locals are saying
Local officials say they have not been informed of any plan.
Visiting the island, a Reuters correspondent said the only signs of activity were a few buffalo.
"We have only heard bad things about the Rohingya. If they work with pirates and get involved in crime, we don't want them here," said Miyanur Rahman, the adminstrator of Might Bangha village, the closest settlement to Thengar Char.
Others from the village say the new arrivals deserve assistance if they are fellow Muslims.
Myanmar's humanitarian crisis
Observers say this is the biggest challenge facing the government of Aung San Suu Kyi.
It is straining Myanmar's relations with the countries of the region hosting large Rohingya populations like Bangladesh and Malaysia – but also the United States.
Around 1.1 million Rohingya refugees live in what have been described as "apartheid-like conditions" in northwestern Myanmar, where they have been denied citizenship.
"We left everything in Myanmar," said Abu Salam who crossed the border in December from Kya Guang Taung a village in northern Myanmar that was destroyed in the crackdown.
"That is where our home is. If only we could get citizenship, we would like to go back."
Many in Buddhist-majority Myanmar regard them as illegal immigrants from Bangladesh.
The authorities in Dhaka say they are Myanmar nationals and must ultimately go back.