Meet the Russian 'Hobbit' who lives underground in the woods
Comments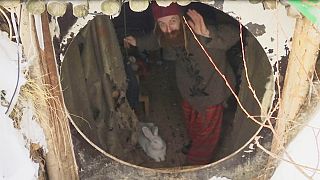 Yuri Alekseyev used to work as a lawyer in Moscow, but packed in his job and city life to move to the forest.
He now lives with his white rabbit Petrushka in an underground 'hobbit' hut, so called because of it's round door.
Far from a hermit, Alekseyev attracts visitors with a vast library of 4,500 books, that they can exchange at their convenience.
He describes himself as "homeless" and reasons that "most of the people who live in cities are effectively homeless too, since they don't own their homes, all they can afford is to rent a flat, or room, or a couch."