French journalist 'roughed up' by security guards at Le Pen appearance
Comments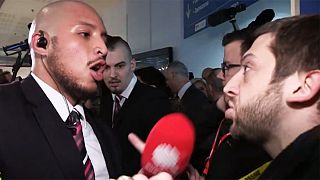 A French journalist was violently removed by security guards from a Paris event on February 1, after asking National Front leader Marine Le Pen a question about her alleged misuse of European Union funds to pay two employees.
Paul Larrouturou of the Quotidien entertainment and news show was among a throng of reporters surrounding Le Pen as she paid a visit to a business fair. He asked Le Pen if she had falsely hired a bodyguard, Thierry Legier, as a parliamentary assistant, before being carried out into a hallway and refused reentry.
The European Parliament was looking into 41,500 euros of European funds used to pay Legier, reports said.
The parliament was also seeking to recoup more than 300,000 euros that it said Le Pen had incorrectly used to pay an assistant based at the NF headquarters in Paris, and not at the assembly. Le Pen was given a midnight deadline on February 1 to repay that amount, but rejected the demand.
The Independent reported that Le Pen said the charge against her was politically motivated.
Le Pen, who is also a member of the European Parliament, is to be docked 7,000 euros a month from her EU parliamentary earnings to pay back the 300,000 euro bill.
After posing the question about the bodyguard, Larraturou was forcibly removed by two security guards and pushed out into a hallway, as this video shows. Over the next minute, Larraturou attempts to re-enter, citing his press credentials, but is again pushed out.
The exchange becomes increasingly heated, with both security guards violently swiping at the camera before an unidentified woman, who is heard urging them to stop, ushers the guards back inside the event hall.
The Huffington Post, which published another video showing the incident, reported that the security guards were employed by the location where the event was hosted, and not by the National Front.
---
Marine Le Pen spoke to Euronews in 2012 about leaving the EU