Canada: Swiss aeroplane makes unscheduled landing at tiny airport
Comments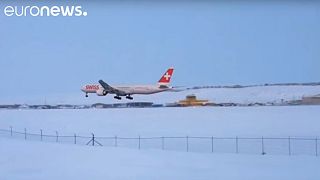 A Swiss aeroplane made a precautionary landing at Iqaluit airport (Canada) on Wednesday.
The aircraft departed from Zurich (Switzerland) and was heading to Los Angeles (U.S.), when the technical difficulties occurred.
Swiss reported that ''the aircraft's left engine automatically shut down'', following a malfunction message. The flight crew decided to land at the Northern Canadian airport, Iqaluit, in the Nunavut region.
Avid plane spotter, Brian Tattuinee, filmed the airplane landing, after hearing about the diversion on social media.
Iqaluit airport has only one runway and usually receives aircraft holding no more than 15 passengers, and also has inferior Ground Support Equipment according to Global GSE. The diverted Swiss airplane (Boeing 777-300ER) has 340 seats.
The aircraft landed safely, and no injuries were reported.