Senior Democrats vow to challenge Trump's Supreme Court nomination
Comments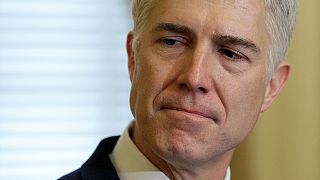 Neil Gorsuch is the man Donald Trump wants for the vacant seat on the US Supreme Court but some senior Democrats are vowing to fight the move.
A showdown in the confirmation process for the 49-year-old judge is expected, with some Democrat senators calling for the requirement for the nominee to win 60 votes of approval in the 100-seat Senate.
Mark Sherman, a Supreme Court reporter for the Associated Press said: "What's unclear at this point is whether the Democrats will try to block or filibuster the nomination.
"Already some Democratic senators have said they want Judge Gorsuch to have a hearing and so it remains to be seen whether there will be the necessary 40 Democrats who unite to try to block the nomination."
The Supreme Court seat has been vacant for almost a year after Republicans refused to consider former President Obama's nominee, Merrick Garland.
Melissa Hart, a professor at the University of Colorado Law School, told reporters: "There's a lot of desire to fight his nomination because of the Republicans' inappropriate blocking of Merrick Garland's nomination.
"I hope that the Democrats will resist the urge to fight cause I think there is – just as there was no argument for not nominating Merrick Garland – now there's no argument for not nominating and confirming Neil Gorsuch. He's a talented, smart guy who will be an excellent justice.''
Hundreds of protesters gathered on the steps of the Supreme Court to voice their opposition to Trump's nomination of Gorsuch, who would restore the court's conservative majority if confirmed in the post.