Fillon sinks further under new corruption allegations
Comments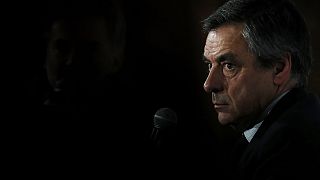 French presidential candidate Francois Fillon and his wife spent five hours being questioned by national financial police on Monday, and now there are fresh corruption allegations against the couple.
Le Canard Enchainé, whose first report triggered the enquiry, has more to say in its latest edition, adding the Fillon children as recipients of fake jobs and upping wife Penelope's salary. It was words from Fillon's own mouth that gave the game away.
"When I was a Senator I occasionally paid my two sons for legal work that they were qualified to do. It was and is within the law, so legal," he said during a TV interview a few days ago.
In total Penelope Fillon was paid 831,440 euros, her daughter 57,084 euros over 15 months, and the manna continued to rain on the sons, qualified barristers, for their work for the Fillon political family.
Except that at the time of the alleged work the young Fillons had not graduated and were still students. Father has proven inept at fielding the multiple allegations, and has stumbled when trying to redress the balance.
Now another media organisation, Mediapart claims Fillon has been a paid advisor for several blue-chip French companies since at least 2012, potential undeclared conflicts of interest. Fillon is convinced he is the victim of a witch-hunt.
"I have never seen, just three months from a presidential election, such a vast campaign organised to try to eliminate a candidate by other than democratic means," he complains.
This may be true, the DSK affair aside, although the ex-director of the IMF was not an official candidate when he fell. Justice will soon be pronounced, however, and the verdict could range from dismissal to the opening of a formal judicial enquiry, which takes, on average, 30 months.
It means nothing will be decided until after the presidentials are done and dusted, leaving the ball is firmly in the Republicans' court. Will Fillon be able to maintain his candidature? For the moment the party insists yes, but a plan B is already being whispered of.
Logically that would reopen the door for beaten primary finalist Alain Juppé, who right now is saying no thanks. Some say a Juppé faceoff against any of Hamon, Macron or Le Pen would symbolise a generational clash. It's also hard to forget Juppé's own 2004 conviction in a similar fake jobs scandal.
The party has young wolves like François Barouin, Xavier Bertrand or Laurent Wauquiez, but French politics is an impatient, ambitious affair and all are likely to have skeletons in closets of their own waiting to be discovered by the eager French press.