UK: Trump state visit puts Queen in 'difficult position'
Comments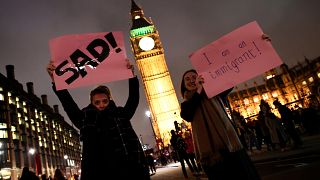 Amid anti-Trump protests the length and breadth of Britain, a former head of the Foreign Office has urged the government to delay a state visit offered to the US President – saying it would put Queen Elizabeth in a "very difficult position".
We don't agree with what Donald Trump is doing and we won't stand for it
In a letter to the Times newspaper, Lord Ricketts said it was unprecedented for a US president to receive such an invitation in their first year in office.
Permanent Secretary at the Foreign Office between 2006 and 2010, he urged Prime Minister Theresa May to "move fast" to protect the Queen from further controversy.
President Trump's State invitation puts the Queen in a "difficult position" says senior diplomat Lord Ricketts https://t.co/NFof5iVnqkpic.twitter.com/38GcZk5yKP

— BBC Radio 4 Today (@BBCr4today) 31 janvier 2017
Outrage is growing over Trump's immigration crackdown with tens of thousands of protesters gathering in London and other British cities on Monday night to demonstrate against the ban and planned state visit.
Some held placards reading "No to Racism, No to Trump" and "Dump Trump".
"I think it is wonderful that so many people have actually come together to voice their disgust as regards to what Donald Trump has done recently," said one man demonstrating in the capital.
"We don't agree with what Donald Trump is doing and we won't stand for it," a young woman said.
My report- Thousands descend on Downing Street amid global protests at Donald Trump's Muslim travel ban https://t.co/ydQRvsZKB3

— Siobhan Fenton (@SiobhanFenton) 31 janvier 2017
A petition demanding the invitation be withdrawn has gathered around 1.7 million signatures. It says the state visit, marked by pomp and pageantry, would cause embarrassment for Queen Elizabeth.
It will be debated by MPs on February 20. On the same day, MPs will also debate a rival petition calling for the state visit to go ahead, which has been signed by more than 100,000 people.
The British government responds to all petitions that gain more than 10,000 signatures and topics are considered for parliamentary debate if they reach 100,000.
Pro-visit voices argue that the monarch has hosted many controversial figures over the years, from Chinese Presidents to the late Saudi King Abdullah.
The invitation for a state visit was conveyed by British Prime Minister Theresa May last week when she visited Trump in the White House.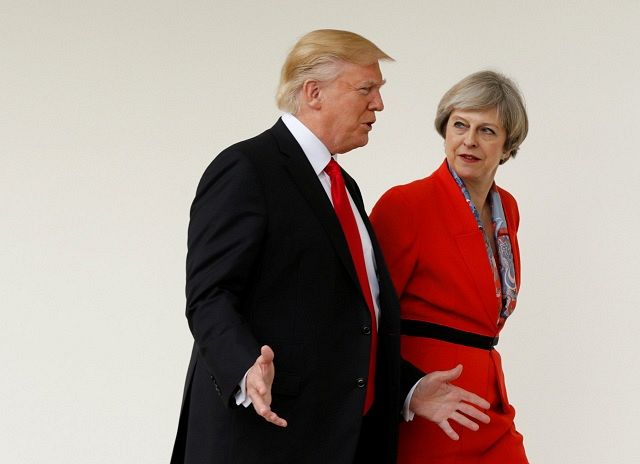 Photo: REUTERS/Kevin Lamarque, 27 Jan. 2017
As Britain prepares to leave the EU, May is eager to maintain the UK's so-called 'special relationship' with the US and secure a trade deal with Washington.
Trump's directive put a 120-day hold on allowing refugees into the US, an indefinite ban on refugees from Syria and a 90-day bar on citizens from Iran, Iraq, Libya, Somalia, Sudan, Syria and Yemen.
Britain's Foreign Secretary Boris Johnson has described the restrictions as "highly controversial".
"This is, of course, a highly controversial policy, which has caused unease and, I repeat, this is not an approach that this government would take," Johnson told parliament on Monday.