Schulz: "a stronger Europe means a stronger Germany"
Comments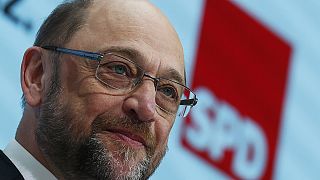 The man nominated to lead Germany's centre-left Social Democrats into the country's upcoming election met the press in Berlin on Monday.
Martin Schulz, the small-town mayor from west Germany who rose to become president of the European Parliament, said he wants to learn "the immediate worries and needs of the people in the country", in order "to alleviate these worries."
The vote
Members of the Social Democratic Party's national executive agreed unanimously on Sunday to make Schulz their candidate for the chancellorship, a post that traditionally goes to the party which receives the greatest share of votes in a general election.
The executive's decision needs to be confirmed at a party convention on March 19, when the 61-year-old also is expected to become party leader.
What Schulz said
During the news conference Schulz also emphasised that the only common sense answer to the developments in the United States is a strengthened Europe.
"A strengthened EU is the best way to protect the interests of the Federal Republic of Germany, which makes sense as a response to what is developing in the US. I would like to achieve social justice through a combination of the distribution of justice and investment policy."
What the polls say
Polls put Schulz's popularity close to that of Chancellor Angela Merkel, who is running for a fourth term in the September 24 vote.