Work starts to repair vital Syrian spring
Comments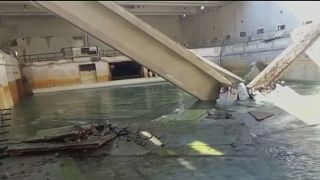 Maintenance workers have arrived at the Ain al-Fija water spring. It is the main water source for the Syrian capital, Damascus.
They will start work on repairing the damage caused by the fighting between rebels and government forces.
Work to go on "day and night"
A monitoring group and pro-government media say Syrian government forces took back control of the area near Damascus after reaching a deal for rebel fighters to withdraw.
It provides most of the capital's water supplies.
The governor of the suburbs, Alaa Ibrahim, says work will go on "day and night" to restore the supply.
"By God's will, the first water will reach homes and the original water supply to homes will resume once we finish our repairs," Ibrahim said.
The background
A military media unit, run by Lebanese group Hezbollah, an ally of Damascus, reported that government forces entered the village of Ain al-Fija early on Saturday, January the 28th.
A statement from the unit says a Syrian flag has been raised over the water station and the army has secured control of the village.
It says the develoment is down to a deal with insurgents arranging for rebels to leave the area.