The EU is urged to "stand firm against Trump"
Comments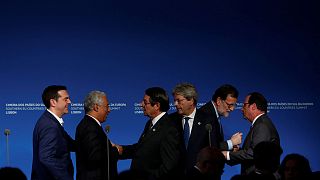 Europe is being urged to stand firm in the face of rhetoric coming from the new US president.
The French President says EU member states should remain steadfast whenever Donald Trump urges them to follow the UK's decision to split with Brussels.
This, Francois Hollande says, is Trump trying to undermine the integrity of the EU.
"Whenever there are statements coming from the president of the United States on Europe and whenever he talks of Brexit as a model for other countries, I believe we should respond," Hollande said on the sidelines of a summit in Portugal.
#observador Refugiados. Hollande responde a Trump a partir de Lisboa: Presidente francês… https://t.co/jFMzkwPuzW

— Noticias de Portugal (@news_portugal) January 28, 2017
Francois Hollande's comments come after Donald Trump signed an executive order on Friday making major changes to US policies on refugees and immigration.
Hollande was scheduled to have a telephone conversation with Trump on Saturday.
The summit
Southern European leaders are meeting in Lisbon to discuss the growing challenges they face.
These range from the refugee crisis to rising borrowing costs and low economic growth.
Rising populism is also contributing to political certainty across the continent.
The leaders of Greece, France, Italy, Spain, Malta and Cyprus are in Lisbon for the summit.