Did the US State Department managers resign over Trump?
Comments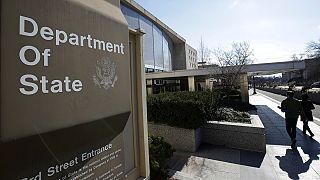 Several senior-level managers at the US State Department are reported to have resigned.
However, there are conflicting claims over what this means.
Some say it is an abrupt departure in protest against Donald Trump's presidency.
But others say it is routine procedure in the wake of a change of political administration.
Four top officials ousted at State Department as Trump administration takes shape https://t.co/Lt3QDBjFElpic.twitter.com/iR5XKjQ9Hu

—

NBC

News (@NBCNews) January 27, 2017
Who has resigned?
Under-Secretary for Management Patrick Kennedy and acting Under-Secretary of State for Arms Control and International Security Thomas Countryman both plan to leave their posts by Friday.
Assistant Secretary for State for Diplomatic Security Gregory Starr and Michele Bond, Assistant Secretary for Consular Affairs, are also said to be leaving.
"It's not two weeks notice"
The departures were discussed at State Department meetings on Thursday morning.
There is reportedly some unease. This is partly because at least two of the officials have been asked to go by Friday.
"It's not two weeks notice," said one official who spoke on condition of anonymity, referring to the statutory notice period for leaving employment in the US.
The department itself has stressed that turnover is the norm when a new political party comes to power.
Turnover – "the rule, not the exception"
Insiders say turnover is the rule, rather than the exception, among top US government officials when the White House changes hands from one party to another.
In this case, it is from Democrat Barack Obama to Republican Donald Trump.
Political appointees chosen by the Senate were obliged to submit letters of resignation after the election last November the 8th.
This is to give the new president the opportunity to place his own people in the jobs.
At least one media report has suggested that the departures amount to a mass resignation.
However, several US officials have said this is not the case.
Secretary of State-designate
The US Secretary of State-designate visited the State Department on Tuesday for briefings.
Former oil executive Rex Tillerson had narrowly won approval from a Senate committee the day before.
Confirmation by the full Senate is the next step.
Secretary of State nominee Rex Tillerson advances out of Senate committee https://t.co/gWSxj0iDmt

—

NBC

Politics (@NBCPolitics) January 23, 2017
It was Tillerson's first meeting at his new place of employment since new US President Donald Trump nominated him as his choice for secretary of state.
The Senate Foreign Relations Committe voted 11-10 on Monday to approve Tillerson.