CeBIT technology trade fair: coping in an ever more digital world
Comments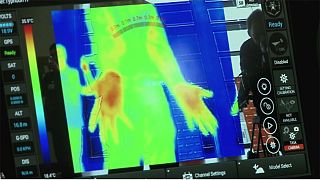 The transformative power of digitalisation is the theme this year at CeBIT, the world's largest technology trade fair.
At a preview for the show – which launches in March in Hanover, Germany – organisers explained cyber spying and alleged political manipulation are very much in focus, and among the events there will be a live talk, via internet, with Edward Snowden.
Oliver Frese, Managing Board member with Deutsche Messe, told Euronews: "Security is one of the central issues at CeBIT. On the one hand we will have more than 300 exhibitors that offer security solutions for businesses, but we will also debate the topic in different forums, and at the CeBIT Global Conference."
#DigitalBusiness is always connected. #CyberSecurity has never been more important -> https://t.co/0mBWltt7dw
#CeBIT17#IoT#BigDatapic.twitter.com/JfxJCQuk4z

— CeBIT (@cebit) January 26, 2017
SAVETHEDATE: #HACKVENTION Creative Lab cebit</a> - March 22-24! Stay tuned, more coming soon! <a href="https://twitter.com/hashtag/VirtualReality?src=hash">#VirtualReality</a> <a href="https://twitter.com/hashtag/AugmentedReality?src=hash">#AugmentedReality</a> <a href="https://twitter.com/hashtag/Tech?src=hash">#Tech</a> <a href="https://twitter.com/hashtag/CeBIT?src=hash">#CeBIT</a> <a href="https://t.co/Q17QpjI7qq">pic.twitter.com/Q17QpjI7qq</a></p>&mdash; HACKVENTION (hackvention) January 26, 2017
CeBIT's partner country this year is Japan, which has over 120 companies participating and the Japanese Prime Minister Shinzo Abe attending.
Takeshi Yagi, Japan's ambassador to Germany, said: "There are many areas were we want to wow the world. Take robotics for example, artificial intelligence, autonomous driving, or also biometrics."
Japanese Ambassador Takeshi #Yagi <a href="https://twitter.com/hashtag/CeBITPreview?src=hash">#CeBITPreview</a>: "We want to bring tech to <a href="https://twitter.com/hashtag/CeBIT17?src=hash">#CeBIT17</a> that will astonish the world."</p>&mdash; CeBIT (cebit) January 25, 2017
The latest developments in virtual reality will be on show to the expected 200,000 visitors, along with drones which are changing the world's of surveilance, combat and parcel delivery.
Euronews correspondent Sebastian Saam reported from the preview: "Digitalisation changes our economies, governments and societies. CeBIT wants to make those transformations tangible for its visitors. It's an exhibition, a conference and a platform for networking essential for all those involved in the digital economy."
The show runs from March 20 to 24 with 3,300 exhibitors from 70 countries.