Trump's 'voter fraud' probe could lead to 'denial of voting rights'
Comments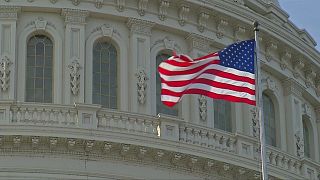 President Donald Trump has pledged a "major investigation" after continuing to allege voter fraud he says deprived him of winning the popular vote in the US presidential election.
Neither the president nor his team have offered any credible evidence, and his claims that millions voted illegally have been comprehensively debunked by electoral officials and fact-checkers.
The president has persisted in pursuing the matter with more tweets.
I will be asking for a major investigation into VOTERFRAUD, including those registered to vote in two states, those who are illegal and….

— Donald J. Trump (@realDonaldTrump) January 25, 2017
even, those registered to vote who are dead (and many for a long time). Depending on results, we will strengthen up voting procedures!

— Donald J. Trump (@realDonaldTrump) January 25, 2017
It has led to criticism that he cannot accept the fact that Hillary Clinton won nearly three million more votes.
The only studies offered by Trump's team appear to date from a few years ago: despite some evidence of invalid registrations political scientists say there was zero evidence of voter fraud.
On Tuesday the White House press secretary said at a news briefing that the president stuck to his claims. But Sean Spicer provided no concrete proof and has been accused of misinformation.
Critics say the president is being exposed as a liar.
Rights campaigners fear it may lead officials to deny voting rights to immigrants and minorities.
Trump is telling Republicans to accelerate voter suppression, to make it harder for the poor, young, elderly and people of color to vote. https://t.co/dMBKr5Kopn

— Bernie Sanders (@SenSanders) January 25, 2017
"I fear about that statement and what is something we should all worry about, is when Trump talks about three to five million people voting illegally he is sending a message to every Republican governor in this country to go forward with voter suppression. The great political and democratic crisis we face now in this country is not voter fraud, it is voter suppression," said Senator Bernie Sanders, who was beaten to the Democratic nomination at the election by Hillary Clinton.
Clinton lost the election under the state-by-state Electoral College system.
But the Democrat's large victory in the popular vote and US intelligence findings of Russian interference have led to criticism that Trump's win was not legitimate.