German Bundesliga first to get assistant video referees
Comments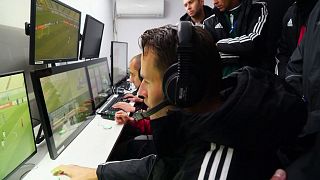 The German Bundesliga is to use assistant video referees from next season after successful trials. It will be the first major soccer league in the world to use a video system.
They were first used at a FIFA World Cup in Japan in December, and are thought to have corrected several poor refereeing decisions. They have proved their worth in German testing since August.
"Up to now it's going super, but now we are starting with the live tests, for example the communication between the video assistant and referee. This will be exciting when everything's working. We expect it to be working punctually before the coming season," said the German FA's Vice-President Ronny Zimmermann. "The reactions that we have so far, from many contacts in the soccer world, are positive without exception, because I believe, everyone wants this. Everyone wants the errors in the system taken away. We are doing this and it should work."
Two assistant referees will be used in each stadium, using video monitors to review decisions from multiple camera angles, and focusing on goals scored, penalties awarded, straight red cards and cases of mistaken identity when the referee gives a card to the wrong player.
FIFA will take a final decision on the technology in 2018.