All change on the White House website as Trump makes his mark
Comments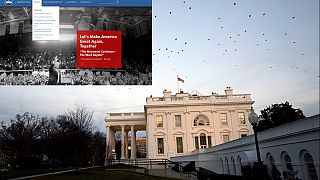 The White House website has undergone a radical overhaul since Donald Trump's inauguration on Friday, with pages devoted to fighting climate change and defending LGBT rights notable casualties.
While both topics featured prominently on the site in the Obama era, they were swiftly eliminated after Trump took the presidential oath of office.
Instead, the 'issues' section of the site under the new US leader features items such as "Bringing Back Jobs and Growth", "Trade Deals Working for All Americans" and the "America First Foreign Policy".
Here is a comparison between the 'issues' column under both administrations. This is the Obama White House site: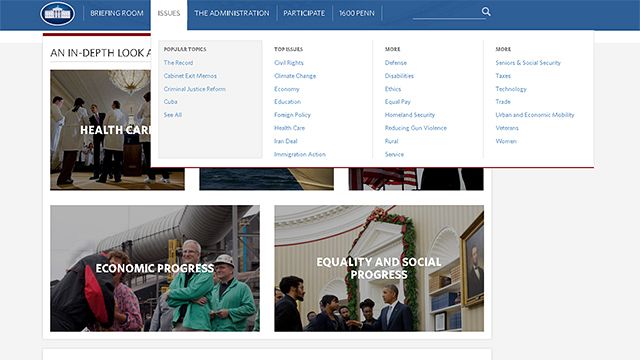 And this is the all-new Trump version: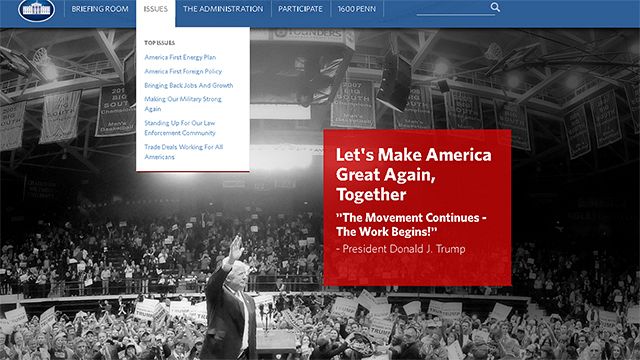 As well as highlighting Trump's 'Make America Great Again' campaign slogan, his White House site is also effusive in its praise of the billionaire businessman and his November election victory over Democrat Hillary Clinton.
The biography section begins: "Donald J. Trump is the very definition of the American success story".
It gives detailed figures about his presidential poll win, backed by millions of Americans, in what is described as "a truly national victory and a historic movement".
Elsewhere on the site, Obama-era sections on civil rights and disabilities are noticeable by their absence, as are pages on the LGBT community.
Never shy in condemning Trump's policies, celebrities took to Twitter to denounce the new-look website.
Among those speaking out were George Takei, alias Mr. Sulu from Star Trek.
The White House removed its climate change web page. And the healthcare, civil rights and LGBT sections. Just thought you should know.

— George Takei (@GeorgeTakei) 20 janvier 2017
Fellow Trump critic, US singer and actress Bette Midler, also expressed her alarm, as did British writer Jeanette Winterson.
IT BEGINS.
Donald Trump Inauguration: Climate Change Removed From White House Website, via @nytimeshttps://t.co/vhGl7YWrBk

— Bette Midler (@BetteMidler) 21 janvier 2017
Trump Whitehouse website strips all mention of climate change & LGBT rights from any agenda & wipes the Civil Rights History section. Day 1

— JEANETTE WINTERSON (@Wintersonworld) 21 janvier 2017
Trump's focus is elsewhere.
There is a pledge to end a "dangerous anti-police atmosphere in America", for example, in the "Standing Up For Our Law Enforcement Community" section.
Climate change is alluded to – but only in a declaration of Trump's determination to eliminate Barack Obama's Climate Action Plan and other environmental initiatives to help boost the oil and gas industry.
"President Trump is committed to eliminating harmful and unnecessary policies such as the Climate Action Plan and the Waters of the US rule. Lifting these restrictions will greatly help American workers, increasing wages by more than $30 billion over the next 7 years," the site says in the 'America First Energy Plan' which tops the list of 'issues'.
Trump has expressed scepticism about whether human activity drives climate change, despite an overwhelming majority of scientists saying that the burning of coal, oil and gas is a driver of the problem globally, causing sea level rises and more frequent violent storms.
Another big change is the removal of an option allowing readers to access the White House site in Spanish, something which existed in the Obama era, as seen below: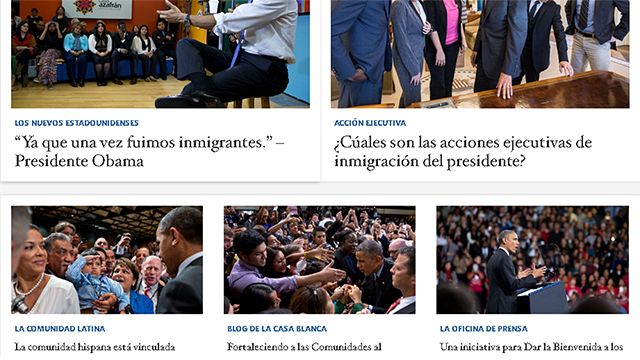 White House website deletes spanish, LGBT and climate change https://t.co/KEMjGlnQbEpic.twitter.com/MYHvJMxY7w

— teleSUR English (@telesurenglish) 23 janvier 2017
Known for his online activity, President Trump has wasted no time in leaving his digital footprint all over the White House website.
with Reuters