Key quotes from Donald Trump's inauguration speech
Comments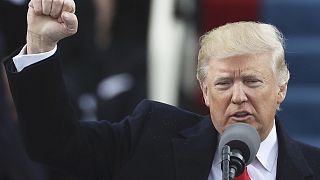 Below are some extracts from Donald Trump's first speech as US president. "You can watch the whole event on our Facebook page:"https://www.facebook.com/euronews/videos/10154599150388110/
Whether we are black or brown or white, we all bleed the same red blood of patriots.

US president
"We are grateful to President Obama and first lady Michelle Obama for their gracious aid throughout this transition.
They have been magnificent.
Thank you.
Today's ceremony, however, has a very special meaning because today we are not merely transferring power from one administration to another or from one party to another, but we are transferring power from Washington, DC, and giving it back to you, the people.
…
"For too long, a small group in our nation's capital has reaped the rewards of government while the people have bore the cost. Washington flourished, but the people did not share in its wealth. Politicians prospered but the jobs left and the factories closed.
The establishment protected itself, but not the citizens of our country. Their victories have not been your victories. Their triumphs have not been your triumphs. And while they celebrated in our nation's capital, there was little to celebrate for struggling families all across our land.
…
"January 20th, 2017, will be remembered as the day the people became the rulers of this nation again.
The forgotten men and women of our country will be forgotten no longer. Everyone is listening to you now. You came by the tens of millions to become part of a historic movement, the likes of which the world has never seen before.
….
"America will start winning again, winning like never before.
We will bring back our jobs.
We will bring back our borders.
We will bring back our wealth, and we will bring back our dreams.
…
"Do not allow anyone to tell you that it cannot be done. No challenge can match the heart and fight and spirit of America.
"We will not fail. Our country will thrive and prosper again.
….
"It's time to remember that old wisdom our soldiers will never forget, that whether we are black or brown or white, we all bleed the same red blood of patriots; we all enjoy the same glorious freedoms; and we all salute the same great American flag.
…
"So to all Americans in every city near and far, small and large, from mountain to mountain, from ocean to ocean, hear these words: You will never be ignored again. Your voice, your hopes and your dreams will define our American destiny. And your courage and goodness and love will forever guide us along the way.
"Together we will make America strong again, we will make America wealthy again, we will make America proud again, we will make America safe again.
"And, yes, together we will make America great again.
"Thank you. God bless you.And God bless America."