Watch - acrobatic child baptism in Georgia
Comments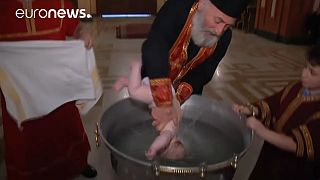 New parents in Tbilisi, Georgia queued up to have their children blessed at the city's Orthodox Holy Trinity Cathedral in celebration of the Epiphany on Thursday (January 19.)
The mass baptism was an invention of Patriarch Ilya II, considered one of Georgia's most influential men.
He came up with the idea to stimulate the country's low birth rate, promising to personally baptise every third child in each family.
The patriarch blessed 780 children in the ceremony.
Why the low birth rate?*
Georgia's low birth rate is a product of the country's taboo on sex before marriage for women. (Young men having pre-martial sex is tolerated, perhaps even encouraged.)
Many young women feel they need to repress their desires and succumb to societal norms until they are married. As such, many wed at a young age – unions which are more about sex than anything else. A marriage certificate is often considered nothing more than a licence to have sex.
Many girls who remain unmarried to their boyfriends either abstain from sex, or buck the norms of Georgian society and have pre-martial sex. When a pregnancy results, the woman is more likely to get an abortion than have the child. Both sexual abstinence and abortion have lowered the county's birth rate.
If you liked this story, you might also enjoy :
- Argentina's topless protest
– Finns compete in annual hobby horse championship
– Distraught French football fan consoled by young Portugal supporter
– Watch: Man, 84, trips armed jewellery thief
– Dalai Lama makes time for jokes among political issues at Council of Europe