Donald Trump, day one: US Women's March set to go global
Comments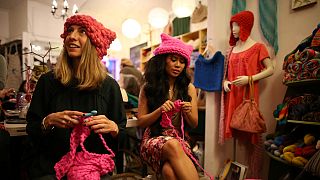 US President-elect Donald Trump's first full day in office appears likely to be marked by one of the biggest demonstrations in American history.
The Women's March on Washington began as just that: a rally in the capital "to bring people together to take a stand on issues that deeply impact all of us," its website states.
"The rhetoric of the past election cycle has insulted, demonized, and threatened many of us – immigrants of all statuses, Muslims and those of diverse religious faiths, people who identify as LGBTQIA, Native people, Black and Brown people, people with disabilities, survivors of sexual assault – and our communities are hurting and scared.
"We are confronted with the question of how to move forward in the face of national and international concern and fear."
Conceived after the US election on November 9 the movement went global within weeks.
The Washington march will begin within metres of Capitol Hill, the site of Trump's inauguration a day earlier.
Worldwide action
Organisers of the January 21 event are now expecting approximately one million people to march in at least 300 sister events taking place all over the world, from Colombia to Myanmar, Iraq to Saudi Arabia, seeking to:
"Reaffirm the core American values of freedom and democracy for all at a time when many fear that their voices will be lost, specifically related to women's rights immigrant rights, worker rights, reproductive rights LGBTQIA rights, environmental rights, rights for all races, and religious freedom."
President of the Association of Black Women Attorneys, Kaylin Whittingham, said the scale of the rally was unprecedented.
"A march of this magnitude, across this diversity of issues has never happened before. We all have to stand together as a force no one can ignore."
Men welcome
While led predominantly by women, the event is also open to men.
"The marches are bringing together people of all backgrounds, races, religions, gender identities, ages and abilities, as well as communities of immigrants."
Taking a stand
Every US state is holding at least one march. Many have several planned.
A spokeswoman for the Boston sister organisation of the Women's March said people who may not normally be politically active are getting involved.
"This is an unprecedented, organic and viral grassroots movement that is growing every day," said Yordanos Eyoel, who became a US citizen in autumn, 2016.
"The aggregate turnout has the potential to exceed one million marchers. What makes this movement even more special is that people who have never been politically active before are now mobilising."
'Unity principles'
The rapid expansion of the rally has pushed organisers to publish a new set of 'Unity principles,' covering points such as: ending violence; reproductive rights; LGBTQIA rights; worker's rights; civil rights; disability rights; immigrant rights; and environmental justice.
Critics of the initial US event say white women have been put off by talk of race relations, while some minority women claim whites are doing too little too late.