The Trump dossier: what do we know and is it credible?
Comments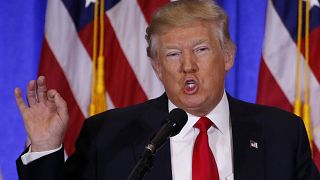 As Donald Trump weathers the storm caused by an explosive intelligence report which suggests Russian officials may have cultivated the soon-to-be President and collated information they could use for leverage against the incoming administration, new details are emerging about the report's author.
The 35-page report, itself comprising numerous intelligence memos dated from June to December, was written by Christopher Steele, a former British intelligence officer who has been in hiding since Wednesday January 11.
Among the details in Steele's report is the information Russian officials deliberately took advantage of Trump's "personal obsessions and sexual perversions" to obtain compromising material on Trump they could use to black mail the President.
The report also suggests Russian officials have supplied Trump for the past eight years with intelligence on his political rivals, including 2016 presidential campaign opponent Hillary Clinton, and that the intelligence dossier was personally supervised by Kremlin spokesman Dmitry Peskov on Russian President Vladimir Putin's orders.
Trump has vehemently denied the report's accusations calling it a "political witch hunt" on Twitter and its release to the public has driven a wedge between the incoming White House administration, US media organisations and the country's intelligence services.
So too have Russian authorities.
US intelligence agencies say they were largely unable to substantiate the report's allegations, but thought the content sensitive enough to include in Trump's intelligence briefing last week.
The intelligence dossier has reportedly been widely circulated among journalistic and political circles since October. US news network CNN reported on the dossier without publishing its contents because they too could not substantiate its claims.
The scandal hit when Buzzfeed published the 35-page report in its entirety. To read the intelligence memo published by Buzzfeed click here .
Trump has accused the US intelligence community of leaking the report to the public, but intelligence director James Clapper called Trump to guarantee the leak did not come from within intelligence ranks.
When reporters this week asked Trump if he or anyone on his staff had any connections with Russian officials, Trump replied he had none.
Who is Christopher Steele?
Steele has been described as a former MI6 British intelligence officer. His identity was first revealed by the Washington Post on Wednesday January 11.
Steele, 52, according to the New York Times, was a long-standing intelligence officer who had been stationed in Paris and Moscow in the 1990s. He is known to have intricate knowledge of Russian power politics after a career that spans more than 20 years.
By 2009 Steele, along with Chris Burrows, had founded Orbis Business Intelligence Ltd , a private research firm based in west London described as a "leading corporate intelligence consultancy".
Burrows on his LinkedIn profile is described as a former first secretary and counsellor of the UK's Foreign and Commonwealth Office who, from 2000 to 2009, had postings in Brussels and Delhi.
The Foreign and Commonwealth Office promotes the UK's interests abroad.
Burrows has neither confirmed nor denied that Steele wrote the intelligence brief.
Orbis' website says the company was founded by former intelligence officers and has a "sophisticated investigative capability" to provide "intelligence-gathering operations and conduct complex, often cross-border investigations."
Steele went into hiding before he was unmasked and he reportedly fears his life may be in danger of Russian retaliation.
Steele was hired by a company in Washington, initially funded by anti-Trump Republicans and then later by Democrats, to probe Trump's suspected links to Russia. While working on the dossier, Steele is said to have shared his findings with journalists and even the US FBI.
The UK's Telegraph newspaper reports one of Steele's contacts was David Corn of the US political blog Mother Jones.
What are the main accusations?
The 35-page report alleges many links to Russia's FSB. Chief among them is the suggestion Donald Trump and his family were given a steady stream of Russian intelligence on political rivals that included lucrative real estate development deals in Russia tied to the football World Cup tournament to take place there in 2018.
This information is said to be corroborated by two sources still active within the Kremlin.
Also alleged is that Russia had offered a 19.5 share of oil and gas giant Rosneft to Trump in return for the promise he would lift sanctions against the country.
A separate memo alleges Trump's partnership with Russian authorities began as far back as 2008, nearly eight years before he declared his candidacy for president in 2016.
Another claims it started five years ago.
Another allegation says Russian intelligence has compromising information from 2013 they could use to blackmail the incoming president. The information purports to relate to various sex acts.
While it is true Trump visited Moscow to host a beauty pageant and stayed at the Ritz in Moscow there is no available evidence to prove the allegations are true.
Most damningly, the report suggests Trump knew, paid for and has helped cover up Russia's cyber-attack of the Democratic National Convention.
In the report, Steele affirms Trump lawyer Michael Cohen met with Oleg Solodukhin, a Russian diplomatic staffer in Prague, to set out payment plans for Russian hackers and plans to cover up Russian links to the DNC email hacks.
Journalists have not been able to confirm Cohen's arrival in the Czech Republic, and Solodukhin has denied meeting the lawyer. Cohen also denies ever having visited the country in his life.
Is the intelligence report credible?
Amid Trump's and Russia's strong denials of the report's claims, The Guardian newspaper reports US intelligence services felt the need to communicate the memo to Trump because of Steel's supposed credible reputation.
British intelligence officials reportedly rallied to defend Steele. But the report's author has been unable to travel directly to Russia for the past 20 years. It is believed he used contacts developed as an MI6 operative, and throughout his involvement with Orbis, to compile the report.
It is entirely possible Steele was given suspect information, and there is speculation as to the amount of direct contact Steele had with his Russian sources, working with intermediaries to interpret and channel information.
But Paul Roderick Gregory, a contributor to Forbes, writes the entire report is false and comes to Trump's defence.
Gregory, who says he has studied Russian politics since the 1960s and co-authored reports for the US State Department and intelligence services, says the report's writing style does not match that of a former career British intelligence officer.
Rather, he says the report was authored by a native Russian speaker.
Most notably Gregory says, is how the names of those cited in the report are capitalised, a practice he says is indicative of Soviet and now Russian intelligence style. The report is additionally sparse of official verified information and fails to name any source directly.
The allegation of an 11-billion-euro bribe to Trump in the form of Rosneft shares also appears dubious according to Gregory.
Rosneft is a publicly traded company and it would have had to hide the fact the US President would be a major shareholder, not to mention that the deal would have liquidated Putin's cash reserves, Gregory says.