Macron: the euro may not exist in ten years
Comments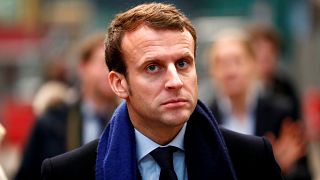 The euro may not exist in ten years' time if Paris and Berlin fail to bolster the single currency union.
The warning has come from the French presidential candidate Emmanuel Macron.
Renaud Dutreil : EmmanuelMacron</a> suscite une admiration y compris chez ses adversaires. <a href="https://twitter.com/hashtag/EnMarche?src=hash">#EnMarche</a> <a href="https://twitter.com/hashtag/MacronBerlin?src=hash">#MacronBerlin</a> <a href="https://t.co/ZSuIi21HzB">pic.twitter.com/ZSuIi21HzB</a></p>&mdash; En Marche Paris 16 ! (enmarcheparis16) January 10, 2017
What Macron said
"The truth is that we must collectively recognise that the euro is incomplete and cannot last without major reforms," Macron said in a speech at a university in Berlin.
"It has not provided Europe with full international sovereignty against the dollar on its rules. It has not provided Europe with a natural convergence between the different member states."
France and Germany
France must implement labour market reforms and revamp its education system to revive growth, Macron said.
Germany must accept that more investment instead of austerity can boost growth across the eurozone area, he added.
"The euro is a weak Deutsche mark, the status quo is synonymous, in 10 years' time, with the dismantling of the euro."
Rencontre avec la communauté française de Berlin.
Je souhaite un couple franco-allemand beaucoup plus fort. #MacronBerlinpic.twitter.com/rqsmbWRXBN

— Emmanuel Macron (@EmmanuelMacron) January 10, 2017
With 100 days to go before the France's presidential election, Macron also said Germany and France are united in the fight against terrorism.
The 39-year-old independent candidate visited the makeshift shrine at the site of the Christmas market in Berlin where 12 people died in a militant attack in the week before Christmas.
"I am convinced it is the historic destiny of France and Germany to lead this fight together, because they have been hit the same way."
"Obviously, Germany has been hit more than France by the issue of migration. There is solidarity between France and Germany to lead in a spirit of responsibility."
Who is Emmanuel Macron?
French Economy Minister under Socialist President Francois Hollande
Resigned to create his own political movement, "En Marche"
Standing as an independent candidate in 2017 French presidential election
What the polls say
39-year-old Macron has enjoyed a boost in the polls recently.
They suggest he has cemented his position as the presidential election's "third man" and is within a whisker of reaching the crucial second round run-off vote to be held in May.
An opinion poll last week showed the lead had narrowed for conservative candidate Francois Fillon.
Both Macron and far-right leader Marine Le Pen look to be gaining on the former prime minister.
The Socialist Party will choose a candidate in a primary at the end of January.
Many pundits say there's no space or appetite for anything new, liberal or pro-EU. Macron is blowing that theory apart. UK should take note https://t.co/FxGwMTUcaK

— Alberto Nardelli (@AlbertoNardelli) January 11, 2017
WATCH
Emmanuel Macron's speech at Humboldt University in Berlin here (in English)