Germany plans more transparency over gender pay
Comments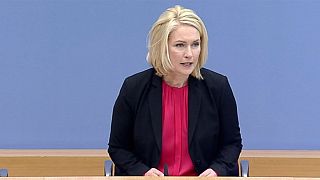 The German government has approved new legislation aimed at obliging companies to be more transparent about salaries paid to male and female employees.
Why are they doing this?
The aim is to tackle the gender pay gap.
What are the new rules?
Workers in companies with more than 200 employees will have the right to know what men and women in equal positions are earning.
Businesses with more than 500 staff members will also have to publish regular updates on salary structures to show they are complying with rules on equal pay.
The bill will still have to be voted on by parliament.
The stats
Women in Germany earn an estimated 21% less than men, according to official figures.
This is worse than the European average of 16.5%, according to data from 2015.
Why is there such a discrepancy?
The thinking is that women in Germany tend to work more often in low-paid jobs or sectors, or only part-time.
The pay gap stands at 7% for women with the same qualifications doing the same work as a male colleague.
What they are saying
"We have to break the taboo that you don't talk about money, because we want to make sure that men and women aren't played off against each other when it comes to wages," – Women's Affairs Minister Manuela Schwesig says the law is a "real breakthrough".