Iconic giant Sequoia tree collapses in California
Comments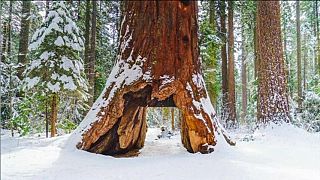 A winter storm has felled California's iconic Pioneer Cabin Tree, an ancient Sequoia whose age is not precisely known, but which is believed to have lived for at least 1,000 years.
At 145 metres tall and roughly 10 metres wide, the tree was large enough for cars to drive through and proved to be a popular attraction for tourists for 137 years.
Located in California's Calaveras Big Trees State Park, near to the border with neighbouring Nevada, the Pioneer Cabin Tree was discovered in the latter half of the 19th century. In the 1880s, the land owners at the time, before it became a state nature park, tunnelled a hole through its base.
It became part of California's "Big Trees Trail", a nature hike in a forest of Sequoia trees. Sequoias are among the oldest trees on Earth and can live up to 3,000 years.
But on Sunday the ageing and weakened tree fell to the ground.
State park authorities are not exactly sure what caused the tree's collapse, but they suspect torrential winter storms hastened its demise.
Northern California has been repeatedly hit by winter storms, dropping large amounts of snow and causing rivers to flood.
Jim Allday, a volunteer at the state park, told SFGATE , the San Francisco Chronicle's sister web-site, the tree had "shattered" when it hit the ground Sunday.
"When I went out there the trail was literally a river, the trail is washed out," he said Allday. "I could see the tree on the ground, it looked like it was laying in a pond or lake with a river running through it."
State park authorities say they will keep the tree where it fell to slowly decompose and create a habitat for other forest life to thrive in the area.
The state park as of Tuesday was open, but the North Grove, the area where the Sequoia's grow, has been closed to the public.