How will the new World Cup work?
Comments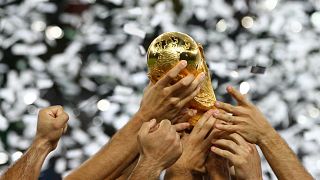 Fifa delegates have given the go-ahead to allow 48 teams to play in the World Cup. This is the first time the event has changed in 18 years.
What is the current state of affairs with the football World Cup ?
At present there are eight groups comprising four teams. The top two progress to the knockout stages.
What has changed?
Fifa delegates opted to vote to allow 48 countries to take part. That means there will be 80 games intead of 64.
How will it work?
The proposal on the table is that the opening stages comprise 16 groups of three teams. The top two will progress to a knockout round with 32 teams. To avoid boring the socks off supporters with 0-0 draws, the president has suggested bringing in penalty shootouts. The rumour coming out of FIFA is that it wants every game to have a positive result. This, it hopes, will stop teams colluding in their final group games to eliminate others from the tournament.
How many games will the winner have to play?
Seven. That remains the same.
Has the tournament always been a 32-team event ?
No. When the event kicked off in Uruguay in 1930 there was one group of four and three groups of three. Only the top team advanced .
From 1934 to 1982 onwards 16 teams participated ( apart from 1950 when 15 teams took part).
In 1982 24 teams started in in Spain. This went up again to 32 when France played host in 1998.
Why is FIFA doing this?
Fifa wants more countries involved, giving them more of a chance to experience the joys of the World Cup experience. The hope is that countries with less footballing-heritage, such as China and India, will turn up to the show. Others suggest they were swayed by the prospect of the coffers swelling by an extra 1billion US dollars (950 million euros).
Does that mean we are likely to see more of countries such as Iceland?
Under the current proposals Europe will receive three more places
Europe 16 (up from 13)
Africa 9 (5)
South America 6 (4.5)
Concacaf 6.5 (3.5)
Oceania 1 (0.5)
Host nation 1 (1)