Breivik pulls Nazi salute in court
Comments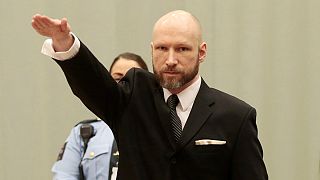 Norwegian mass killer Anders Behring Breivik made a Nazi salute when he appeared in court on Tuesday.
Wearing a black suit and tie, Breivik raised his right arm to make the flat-handed, Nazi-style gesture as he entered the court.
Judge Oeystein Hermansen told him the salute was offensive and should not be repeated.
The 37-year-old made the same gesture at an earlier hearing in March.
Norway ready to defend prison treatment of mass murderer Anders Breivik, who says his human rights were violated. https://t.co/O8CheL6zwF

— The Associated Press (@AP) January 8, 2017
What is the court case about?
Norway is appealing against a ruling that it has violated his human rights by keeping him isolated since he massacred 77 people in 2011.
A judge agreed at an earlier hearing that the Norwegian state had violated a ban on "inhuman and degrading treatment" under the European Convention on Human Rights by keeping him too isolated.
"An unrepentant, right-wing extremist"
Launching the state's appeal, Attorney General Fredrik Sejerstad defended the draconian detention measures, which include hundreds of strip searches and no contact with other inmates.
He said they were fully justified for an unrepentant, right-wing extremist.
"There is no human rights violation," Sejersted said.
"He has not broken down, he has not expressed remorse, he is proud of what he has done."
Breivik's killing spree
Breivik embarked on a killing rampage on July 22, 2011.
He killed eight people with a car bomb outside the prime minister's office in Oslo.
He then gunned down 69 others on an island near the capital.
Many of them were teenagers attending a youth camp run by Norway's then-governing Labour Party.
He is serving Norway's longest sentence – 21 years with the possibility of extension.
Remembering the victims of the Utoya massacre five years on NEWS >> https://t.co/tntRJRbzOA#news#post#presspic.twitter.com/t2fx3PVjCu

— TubeNews en (@tubenewsen) July 25, 2016
Will Breivik take the stand?
Yes.
He is due to address the court on Thursday.