The major obstacles on Cyprus' path to peace
Comments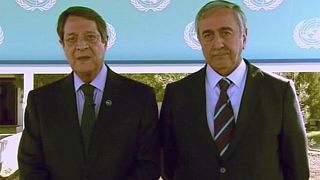 The leaders of both Cypriot communities, Nikos Anastasiadis, for the Greeks and Mustafa Akinci for the Turks, are examining the thorniest issues blocking the reunification of Cyprus.
The Mediterranean island has been divided since a Turkish invasion in 1974 which followed an attempted Greek-inspired coup d'etat. It was only 14 years after independence from Britain in 1960.
If talks succeed, historic for Cyprus but also "strong signal" for peace processes around the world – EspenBarthEide</a> <a href="https://twitter.com/hashtag/CyprusTalks?src=hash">#CyprusTalks</a> <a href="https://t.co/suyuvDPwuW">pic.twitter.com/suyuvDPwuW</a></p>&mdash; UN Geneva (UNGeneva) 9 janvier 2017
With the aim of underwriting stability the 1960 Zurich and London Agreements granted the UK, Greece and Turkey the power to intervene in the island in the event of a breach of the constitutional order. It's an arrangement that only adds complexity to negotiations for a permanent peace agreement. Both sides are well aware of the challenges ahead:
"Let's hope that the few things which are left like the guarantee issue and other few things they agree and next week, by the end of the month we hear the good news that we're going to be in a united country again," said Hasan Chirakli, a Turkish Cypriot resident of the divided capital, Nicosia:
The status of up to 40,000 Turkish soldiers stationed in the north of the island is a crucial issue, the Greeks want them to leave, the Turks insist some must stay.
Another difficult question is on territory. The parties must find a way to share the island between two communities in one unified state; a bilateral federation with only one sovereignty, one citizenship and one international identity. It comes against against the backdrop of still painful memories, as Ourania Peletie, a Greek Cypriot councillor in the northern part of the island explained: "I'm sure there are solutions around that… and I remind you of 1974 when we were displaced by force, by the Turkish troops we had no arrangements where to stay. We were living under the trees in tents."
Brainstorming on Security and Guarantees to take place on Monday afternoon during #Geneva talks on #Cyprushttps://t.co/iKrsxeGNQWpic.twitter.com/NWRpCtajBC

— Parikiaki Newspaper (@Parikiaki) 9 janvier 2017
Today Cyprus has a population of just over a million, of which some 20% are Turks and 80% are Greek. This imbalance also poses a problem in the quest for an agreement on the presidential model. Under the 1960 constitution the president must by a Greek Cypriot and the vice president a Turkish Cypriot, elected by their respective communities. Now the Turkish side want the role to rotate, an idea rejected by the Greeks.
The negotations will only succeed if compromise can be found on all these fraught issues.