North Korea's weapons capabilities "serious threat" - Washington
Comments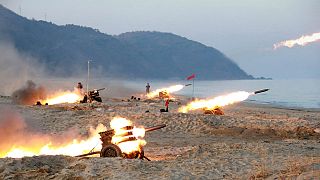 The US has described North Korea's nuclear weapons capabilities as a "serious threat" and that it is prepared to shoot down any missiles coming towards its territory.
The hike in tensions has been sparked by Pyongyang's claim that it is close to test-launching intercontinental ballistic missiles.
US Secretary of Defense, Ash Carter:
"Their nuclear weapons and ballistic missile defense programs are a serious threat to us. We try to stay ahead of that, and we are staying ahead of that (…) We're ready to defend the Korean peninsula and defend our friends and interests there".
On Sunday, North Korea repeated its claim that it could test launch an ICBM at any time from any location set by leader Kim Jong-un, and blamed hostile US policy for its arms development.
Once fully developed, a North Korean ICBM could threaten the continental United States, which is around 9,000 km from the North. ICBMs have a minimum range of about 5,500 km, but some are designed to travel 10,000 km or farther.
U.S. President-elect Donald Trump responded to Kim's comments on an ICBM test by declaring in a tweet last week: "It won't happen!"
North Korea just stated that it is in the final stages of developing a nuclear weapon capable of reaching parts of the U.S. It won't happen!

— Donald J. Trump (@realDonaldTrump) January 2, 2017
Experts have said that while North Korea may be close to carrying out tests it would likely take years to perfect the weapon