Cartoonists 'still facing death threats' two years on from Charlie Hebdo
Comments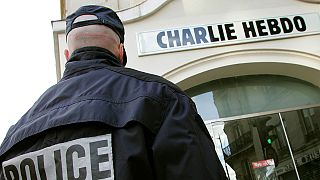 Cartoonists continue to 'pay a high price for their irony', it's been claimed, two years since Islamists stormed Charlie Hebdo's offices in Paris and killed 12 people.
They continue to face censorship, death threats, judicial harassment, violence and murder, says Reporters Without Borders (RSF).
RSF cites the case of Musa Kart, a well-known Turkish cartoonist for leading opposition newspaper Cumhuriyet, who was detained late last year during a wave of arrests after the country's failed coup.
"Since the Charlie tragedy, many cartoonists have lived under constant political, religious and economic pressure, and pressure from non-state groups as well," RSF secretary-general Christophe Deloire said.
"Accusations of offending religion are too often used as a tool of political censorship. It is essential to remember that international law protects cartoonists because it safeguards the right to express and disseminate opinions that may offend, shock or disturb.
"How you wield a pencil can still lead to violent reprisals. Only too often, cartoonists pay a high prize for their irony and impertinence. The threats they receive are barometers of free speech, acting as indicators of the state of democracy in times of trouble."
"Many cartoonists bear witness, in their battles and in the harassment and threats they receive, to the importance they assign to their efforts to raise awareness," said Jean Plantureux (Plantu), president of Cartooning for Peace. "Since the Charlie terrorist attacks, other tragic events have confirmed that, more than ever, we need to pursue our fight for freedom, one that is also waged with the pencil."
RSF also highlights several other cases of persecuted cartoonists, including Tahar Djehiche, an Algerian who was given a jail sentence for insulting President Bouteflika and Tunisian blogger Jabeur Mejri, who was sentenced to seven and a half years in prison in 2012 in connection with his Facebook posts.
Riss, who took over the editorship of Charlie Hebdo from Stephane 'Charb' Charbonnier, murdered in the January 2015 attack, said: "We get the impression that people have become even more intolerant of Charlie. If we did a front cover showing a cartoon of the prophet Muhammad now, who would defend us?"
It comes after another of Charlie Hebdo's journalists quit the magazine. Zineb El Rhazoui, who joins Luz and Patrick Pelloux in leaving, told Agence France Presse the publication had bowed to Islamic extremists by saying last year it would no longer draw Muhammad.